South Africa
South Africa Impact Tour
Travel with Heart
13 Days • 20 Meals • November 8, 2018 $3559 per person land only
Travel with Heart! This tour blends traditional sightseeing with giving back to local communities.
Ponder history during a visit to the Apartheid Museum.
Search out the "Big Five" during an open-air safari game drive.
Partner with Knysna Education Trust to spend a day working on educational projects
with the children or on the school building itself.
Visit the Featherbed Nature Reserve.
Distribute Hippo Rollers in a local community,
drastically improving their access to fresh water.
Travel the lush Garden Route between the mountains and the balmy Indian Ocean.
Relax during a leisurely stay in Cape Town,
one of the most beautiful cities in the world.
Volunteer for a program in Stellenbosch that works with young people in need.
Highlights: Johannesburg • Soweto
• Kruger National Park
• Safari Game Drive
• Knysna Education Trust
• Featherbed Nature Reserve
• Hippo Rollers
• Cape Town
• Table Mountain
• Pebbles Project
• Stellenbosch
---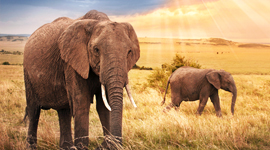 Where The Wild Things Are
South Africa Wildlife Tracker
8 Days from $3,344 pp
Awaken to the roars of a neighboring lion pride, follow in the footsteps of elephants & meet orphaned cheetah cubs on this safari. Behold a world where nature reigns supreme in Kapama Reserve, Timbavati & the exclusive Sabi Sands of Kruger Park. Spot lions, rhinos, elephants, giraffes, zebras, leopards & more during sunrise game drives & night safaris. Featuring visits to famous conservation centers, old-world safari lodges & camps, private transfers & internal flights. The magic of South Africa awaits!
---
Africa Group Discount for 4 people!
Picture yourself creeping through the undergrowth, admidst the fresh green smells of the jungle, in search of the awesome mountain gorillas.
Then be transported to the sublime beauty of the glittering Indian Ocean, relaxing on the silky soft sands of Zanzibar.
Or perhaps you'd rather feel a sense of triumph as you survey the plains of Tanzania from the summit of Mt Kilimanjaro.
Book any of our African Overland Camping Safaris as a group of 4 and you will each receive 7% off.
Or take advantage of our early bird discount - book any safari of 11 days or more, 6 months in advance and receive 5% off.
Overland camping style safaris
Their is a selection of overland camping safaris, ranging from 6 - 57 days, taking in several of Africa's finest national parks including the Masai Mara in Kenya, the Serengeti and Ngorongoro Crater in Tanzania and Kruger in South Africa. Also features Gorilla trekking in Uganda, the opportunity to relax on the white sands of Zanzibar and a Mt Kilimanjaro summit climb, where accommodation will be in basic mountain huts rather than camping.
This company's camping safaris are led by an experienced and passionate crew of three, a tour leader, driver and cook, who have travelled extensively throughout the region and have the first hand knowledge and skills to ensure you have an incredible and hassle-free African adventure. The trips include an arrival transfer, an arrival day with no scheduled activities - allowing you time to relax after your flight, many of your meals, game drives, camping equipment, guiding and much more!
Contact Sundial Travel for more details!!
---
---
Cape Town - Winelands - Kruger National Park- Victoria Falls - Chobe National Park
The southern part of this vast continent is the focus on this tour. Starting with Cape Town, possibly the most beautiful city in the world with Table Mountain as its immediate backdrop, you can not be charmed by the spectacular scenery surrounding the city. The visit includes Cape Hope, the most southerly point in Africa and Robben Island, the prison where Nelson Mandela was incarcerated. A stay in the attractive and evocative winelands will give you the opportunity to sample and perhaps purchase some excellent South African wines.
Then you head to one of Africa's premier game reserves, Kruger Park where you will stay in the heart of the park in a private upscale lodge. You will go on safari to view the Big Five and many other amazing animals. Next up is a stay in Botswana in Chobe National Park where game viewing is done under very different methods such as on a small boat sailing through the waterways and grasslands.
The final stop is at Victoria Falls, one of the world's greatest waterfalls which stride the boundaries of both Zambia and Zimbabwe.
When you end the tour, you will have experienced a magical destination.
---