Check this page frequently for time sensitive deals!  Call us to book or book on our search engine!!! 403-244-7114
Our DEALS page has more availability too!
Fares are applicable at time of print – please call or check OUR search engine for up to date pricing!
WILD ATLANTIC WAY
2019 Ireland's Wild Atlantic Way 13 days/12 night Land Tour
TOUR HIGHLIGHTS
Authentic Local Experiences
Spend a day exploring Achill Island, with its soaring cliffs, windswept beaches, rich heritage and deserted boglands.
Get a taste of the Sligo Food Trail with a foraging adventure, followed by a tasting of the wild edibles you find.
Dining Experiences
12 breakfasts (B), 3 lunches (L) and 9 dinners (D) including Abbey Tavern traditional Irish dinner and show, and a festive medieval castle banquet
Trip Highlights
Cliffs of Moher
Down Cathedral
Giant's Causeway
Jaunting car ride in Killarney
Sheep Herding Demonstrations
Sligo Food Trail
Titanic Belfast
Westport House
May 20, June 1, 2019 $4320
June 3, 15 , 2019 $5160
June 17, 29, Aug 19, 31, 2019 $4385
July 1, August 26, Sept 9, 23, 2019 $5225
Oct 7, 19, 2019 $4000
Book by April 30, 2019
---
Tapestries, Towers & Tarte Normande:
Europe's Atlantic Edge
PORTSMOUTH TO LISBON
8 days – September 25, 2019 – $2599 usd
Portsmouth Bruges Cherbourg St-Malo St. Helier El Ferrol Porto Lisbon
Discover and explore the hidden treasures often overlooked along the far-flung edge of Western Europe during this 8-day Atlantic cruise that touches on Portugal, Northern Spain, France, Belgium, the UK's Channel Islands and the Netherlands. Take a relaxing riverboat cruise along Porto's storied Douro River waterfront and learn the significance of Port wines during a detailed wine tasting. Explore Spain's greenest landscapes surrounding El Ferrol, then, meet the skilled artisans of centuries-old Sargardelos, one of the most famous ceramics factories in the world. Hike to breathtaking vistas atop the 229-foot-high headlands of Cap Frehel near St.-Malo. Wander the elegant halls of Elizabeth Castle in the small port of St. Helier in the Channel Islands, or sample the famous fresh lobster and savory and creamy dishes based on cheeses from the famed Jersey cows. Learn the mysteries, controversies and disputes that continue nearly a thousand years after the final strands of the Bayeux Tapestry were woven into place. Admire classical Flemish art at Bruges' Groeningemuseum and sample tangy Belgium ales at countless small pubs and family breweries. This coastal adventure concludes in Amsterdam, where you can admire works housed in the Van Gogh Museum, tour Anne Frank's House or rent bikes to ride among countless art galleries, antique shops and charming cafes in some of the most famous and vibrant neighborhoods in the Netherlands.
Book by May 1, 2019
Private Vatican & Croatian Coastlines Cruise Tour
VENICE TO ROME
May 16, 2019 – 10 days from $4199 usd
Venice, Rovinj, Split, Kotor, Dubrovnik, Giardini , Naxos, Sorrento, Rome
Delve into architectural and epicurean wonders on both sides of the Italian peninsula during this 10-day adventure that combines an Adriatic and Dalmatian Coast cruise with a private Vatican tour, Colosseum arena entrance, and foodie market tour in Rome. Listen to the Venetian clock tower bells of Torre dell'Orologio strike the hour as hundreds of pigeons scatter about St. Mark's Square. Sip crisp and dry Verdicchio paired with octopus salad or garlic-flavored black risotto in delicious Dubrovnik. Drift past the blue domes of Our Lady of the Rocks, a sanctuary for Kotor's local fishermen for nearly 2,000 years. Sample succulent baked cardoon stalks harvested from Sicilian thistles and dusted with melted aged Parmesan cheese near the precipitous slopes of Mount Etna in Giardini Naxos. Experience an exclusive tour deep into the storied shadows of the Colosseum, sidestep crowds during a private tour of some sectors of the Vatican Museums and the Sistine Chapel, and dine in a Rome restaurant featuring authentic Italian dishes.
Book by May 1, 2019
REYKJAVIK TO REYKJAVIK
Northern Lights Iceland Cruise – 7 days –from $2799 usd
Reykjavik, Heimaey Island, Seydisfjordur, Akureyri, Isafjordur Grundarfjordur, Reykjavik
Dramatic scenery and curious communities coalesce on this week-long circumnavigation of Iceland. Explore a country few people will ever visit, and go far beyond the tourist hotspots to remote fjords, raging waterfalls, and small fishing villages. Get to know the independent and creative Icelanders, and watch whales and seabirds play offshore. This Iceland cruise is yachting at its most inventive.
Book by May 1, 2019
SAN DIEGO TO PUERTO VALLARTA
Fishing for the Sea of Cortez – October 4, 2019 – 7 days – $1699 usd
San Diego Cabo San Lucas La Paz Loreto Puerto Vallarta
Follow in the wake of John Steinbeck and Jacques Cousteau as you explore the charismatic Baja peninsula and wildlife-rich Sea of Cortez. Called the "aquarium of the world," these waters are home to all manner of marine life. Fish for trophy-size marlin and tuna. Swim with wild dolphins and sea lions. Shop for Baha hoodies in sleepy mission towns and take a 4×4 high into the Sierra Madre mountains to swim at secluded waterfalls. In between adventures, sample delicious Baja Med cuisine, sip local Valle de Guadalupe wines, and enjoy the unblemished natural wonders all around you.
Book by May 1, 2019
LISBON TO BARCELONA
Spanish Symphony – July 7, 2019 – 8 days – $2099 usd
Lisbon Cádiz Gibraltar Málaga Almeria Cartagena Palma de Mallorca Barcelona
Poised as if to kiss the continent of Africa, Andalusia hugs the southern coast of Spain and embraces cultural influences from both sides of the strait. This is the birthplace of Don Juan and Carmen, evening paseos by women in lace mantillas, cape-twirling matadors. In short, it is quintessential Spain. The beaches of the Costa del Sol are legendary. And behind lie equally magnificent mountain ranges sheltering picturesque "white villages." Here you won't find cookie-cutter castles, but amazing cultural amalgams like the Alhambra and Alcázar. On your elegant ship, you will cruise past larger ships right to the heart of old towns and to the steps of friendly bodegas.
Book by May 1, 2019
BARCELONA TO BARCELONA
Charms of the French & Spanish Rivieras
August 27, 2019 – 7 days – $1999 usd
Barcelona Sanary-sur-Mer St. Tropez Antibes Nice Le Lavandou Roses, Spain Barcelona
See the Costa Brava and French Riviera as it should be seen — from the deck of your elegant sailing cruise ship. Port after port brings new discoveries: the flamboyant architecture of Barcelona, colorful Provençal villages, Riviera towns where world-class museums and vineyards rub shoulders with historic old towns and fishing fleets.
Book by May 1, 2019
Classic Italy & Dalmatian Coast
ROME TO VENICE
May 8, 2019 – 8 days – $1999 usd
Rome, Sorrento, Giardini, Naxos, Kotor, Dubrovnik, Split, Rovinj, Venice
Explore the shores of Italy, Croatia and Montenegro, discovering the charm of Venice, the magnificence of Rome, and the vast beauty of the Dalmatian Coast. Wander down the ancient cobblestone streets of Taormina, travel up the sparking fjord to Kotor and bask in the allure of small ship cruising as your small ship anchors in the heart of Old Town Dubrovnik while larger ships only pass by. From remarkable small ports such as Rovinj to timeless cities like Venice and Rome, discover the Mediterranean's most charming and historic destinations in one incomparable voyage.
Book by May 1, 2019
Amazon Riverboat Adventure
7 days Lima to Lima
Hop aboard a riverboat and experience the Amazon in style. Led by an Amazon Reserve naturalist guide, your cruise will include daily excursions by motorized skiff designed to reveal the exotic wildlife that calls the rainforest home — with any luck you'll spot sloths, toucans, or pink dolphins! And, with plenty of time for exploration in Pacaya–Samiria National Reserve, you'll have the chance to experience the jungle up close. The cuisine on-board is regional and provides a unique and delicious window into local culture. Gain a rare glimpse of how life "on the river" is lived and experience the magic of the Amazon on this once-in-a-lifetime riverboat adventure.
May 20, June 3 $2249
June 17, July 15 $1537
July 1, 29, August 26 $2049
Book by April 30, 2019
Cycling in Tuscany
7 days Rome to Chianciano Terme
What better way to experience the beauty of Tuscany than from the seat of a bike? A mixture of on- and off-road biking awaits on a ride through some of the most gorgeous, yet challenging countryside you'll find anywhere. Explore beautiful hill towns, stunning lakes, and have the option to soak in thermal hot springs. When you are not riding, take in the view of the rolling Tuscan hills from your hotel rooftop and relax with a glass of wine.
June 19, July 14, August 11 $1580
Book by April 24, 2019
Dalmatian Coast & Montenegro Sailing
15 days
Split to Dubrovnik
Stretch out your vacation days lounging on a yacht deck with this sailing trip that covers the Dalmatian coast from Split to Dubrovnik, along with plenty of time in Montenegro. Feel the warm sun on your face with the refreshing spray of seawater as you venture from coastal town to coastal town, stopping to swim, snorkel, or relax on beaches before exploring the rich history behind this storied Old World region. Local food and wine are in abundance, giving you delicious homegrown flavour that's difficult to forget. When it comes to Croatia, every experience is filled with memories that ignite all the senses.
May 16 $2190
June 13, 27, Sept 5, 10, 19 $2519
July 25, August 8 $2699
Book by April 24, 2019
---
Last Minute Costa Cruises
Northern Europe
Sail May 4 or  5 from Venice to Split, Crotia, Kotor, Montenegro; Katakolon, Greece; Athens, Bari, Italy, Venice
7 night cruise from $938 cdn taxes included
Western Mediterranean
May 3 sail from Barcelona to Marseille, Savona, Napoli, Catania, Malta and back to Barcelona
from $685 cdn taxes included
---
RIU PALACE RIVIERA MAYA 5*
Playa del Carmen, Mexico
7 nights all inclusive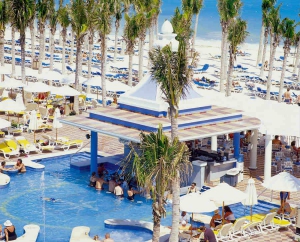 departing:
Edmonton May 1, 8, $885 May 15 $855
Toronto June 2, 7, 9, 14 $895 May 5, 10, 12, 17 $995
Fredericton May 6 $995
Halifax May 6 $945
Moncton May 2 $955
Vancouver May 4, 11, 18 $1015
Calgary May 4, 11 $995
St John's $1015
**taxes $430 to $460
RIU TEQUILA 5*
Playa del Carmen, Mexico
7 nights all inclusive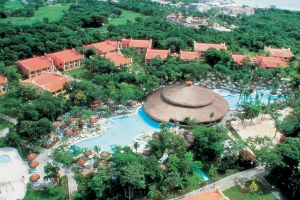 departing:
Edmonton May 9, 10 $615
Toronto June 3, 4, 6, 10, 11, 13, 14 $595
Toronto May 7, 9, 14 $665
Fredericton May 6 $585
Halifax May 5 $675
Vancouver May 6, 8, 15 $615
Calgary May 9, $645
**taxes $430 to $460
RIU DUNAMAR 5*
Playa Mujeres, Mexico
7 nights all inclusive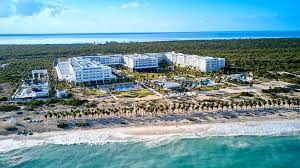 departing:
Edmonton May 1,2 $775 May 3 $885 May 9, 10 $745
Toronto June 2, $805 June 3, 4, $715 June 6, 10 $745 June 7, 9, $785
Toronto June 11 $775 June 13, 14 $705
Fredericton May 6 $755
Halifax May 6 $805
Calgary May 2, $875
Moncton May 2 $915
St John's May 3 $915
**taxes $430 to $460
Christmastime on the Rhine
5 Day River Cruise Basel to Wiesbaden Nov 30 to Dec 4, 2019
Panoramic Balcony suite for $2164 cdn p.p.
details here: River Cruises
---
TASTE OF THE DANUBE
8 DAYS July 1 to 8, 2019 Panoramic Balcony $3089 cdn p.p.
Vienna to Budapest
details here: River Cruises
VIETNAM & CAMBODIA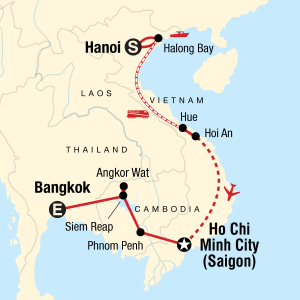 A wide-ranging adventure showcasing the region's natural wonders and fascinating cultures, this 17-day trip offers a combination of guided excursions and free time to explore beaches, ruins, urban culture, and awe-inspiring landscapes. Cruise the Mekong for a day and overnight on a traditional sailing junk boat in Halong Bay. Witness the heights of Cambodia's past at Angkor Wat, and contemplate its lows by walking the infamous Killing Fields. Although many activities are included, there is still plenty of time to explore on your own and create the ultimate adventure.
Small group touring – Mondays, Wednesdays & Saturday departures – land only
May, June, & September $2449 per person
July, August, October $2569 per person
November $2669 per person
---
PORTRAITS OF PANAMA
Miami to Los Angeles 16 day – Nov 21, 2019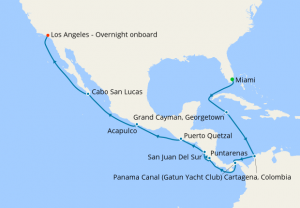 Canadian Resident special!
Air is included from Calgary of Edmonton
Verandah suite $6409 cdn
Penthouse suite $8704 cdn
With air from Vancouver included
Veradah suite $6160
Penthouse suite $8455
Free WIFi included
Choose one:
8 shore excursions
Beverage Package
$800 USD shipboard credit per cabin
---
RIU SANTA FE 4+*
Los Cabos, Mexico
7 nights all inclusive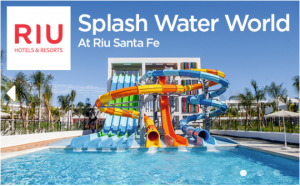 departing Calgary June 8 $695 June 15 $655 June 22 $755
departing Edmonton June 8, 15 $685 June 22 $755
departing Vancouver June 10 $725 June 17 $735
**taxes $440 to $450
---
BEACHES TO BRIDGES
Miami to San Francisco – 18 days Oct 14, 2019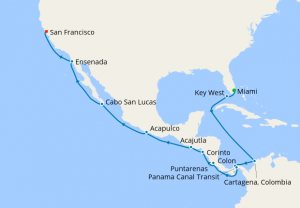 Canadian Resident special!
Air is included from Calgary of Edmonton
Verandah suite $7444 cdn
Penthouse suite $10.234 cdn
With air from Vancouver included
Veradah suite $7195
Penthouse suite $9985
Free Gratuities and Free WIFi included
Choose one:
8 shore excursions
Beverage Package
$800 USD shipboard credit per cabin
---
RIU PALACE LOS CABOS 5*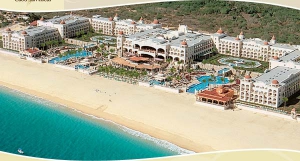 Los Cabos, Mexico
7 nights all inclusive
departing Calgary June 8, 15 $865 June 22 $955
departing Edmonton June 8, 15 $885 June 22 $975
departing Vancouver June 10 $925 June 17 $935
**taxes $440 to $450
---
Colourful Caribbean
Seattle to Miami – 20 days Sept 24, 2019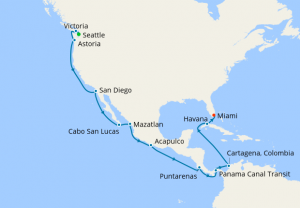 Canadian Resident special!
Air is included from Calgary of Edmonton
Verandah suite $8180 cdn
Penthouse suite $11,150 cdn
With air from Vancouver included
Veradah suite $7931
Penthouse suite $10,901
Free Gratuities and Free WIFi included
Choose one:
8 shore excursions
Beverage Package
$800 USD shipboard credit per cabin
---
RIU MONTEGO BAY 5*
Jamaica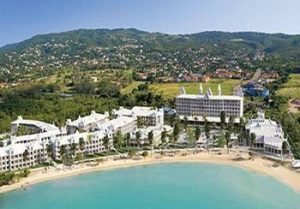 7 nights all inclusive
departing Calgary Oct 21 $985 Oct 28 $1065
departing Edmonton Oct 21 $995 Oct 28 $1075
**taxes $520
---
SIRENA CELEBRATIONS
Los Angeles to Miami 16 days Dec 21, 2019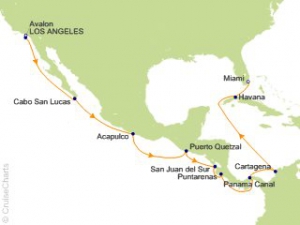 Canadian Resident special!
Air is included from Calgary of Edmonton
Verandah suite $8161 cdn
Penthouse suite $11,626 cdn
With air from Vancouver included
Veradah suite $7912
Penthouse suite $11377
Free Gratuities and Free WIFi included
Choose one:
8 shore excursions
Beverage Package
$800 USD shipboard credit per cabin
---
Marival Armony Luxury Resort and Suites 5*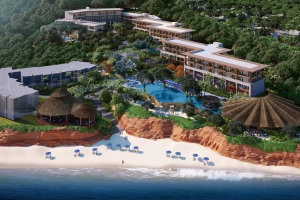 Brand new!
Punta Mita, Mexico  7  Nights All Inclusive *****
May 18: Calgary $1199/person $416 tax
May 18: Edmonton $1169/person $416 tax
May 18: Vancouver $1259/person $406 tax
268 Rooms and also offers 1, 2 OR 3 BEDROOM suites
Family friendly Hotel – great for Multi -generational families because of the 1 -3 bedroom suites.
The resort has  an Adults only section ( dedicated buildings and a dedicated adults only pool)
All Inclusive ( 4 restaurants and 4 bars)
One of the bars will be located on the rooftop with an amazing view of Banderas Bay
The restaurants are beautifully designed
The property exudes charm, the size is perfect and the F&B outlets are all close by so you don't feel like you need to go very far to grab something to eat or drink.
THE SUNSETS WILL BE BREATHTAKING
Location: In the tourist and residential area of the prestigious Punta Mita, North of Puerto Vallarta next door to the Grand Palladium
---
IBEROSTAR PARAISO BEACH 4*
Mayan Riviera
7 nights all inclusive

departing:
Montreal  Sept 9, 12, 16, 19, 25 $745
Quebec City April 12 $985 Jun 2, 9, 16 $895
Vancouver Oct 15, 22, 23 $1145
Ottawa April 1, 15 $1065
Moncton April 04 $945
Fredericton April 08 $845
Toronto April 8 $845
**taxes $440 to $450
---
An Art Lover's Taste of Europe: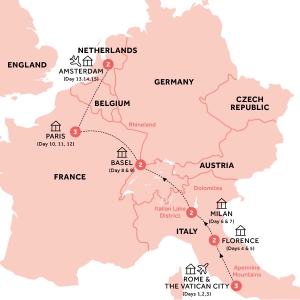 New for 2019, this 15-day cultural journey is an art aficionado's dream. You will visit iconic museums, galleries, churches, monasteries in four countries and immerse Yourself in the painting, sculpture and architecture of the European masters.
In Rome, you avoid the crowds with VIP entry to the Vatican Museums and get behind-the-scenes access to the Bramante Staircase, a marvel of Renaissance architecture that's normally off limits to visitors.
You will get a totally different perspective of the Louvre Museum in Paris by seeing it at night, including works such as the Mona Lisa, the Winged Victory of Samothrace, and Venus de Milo.
In Basel, you will see masterpieces by Cezanne, Picasso, Rousseau, Mondrian, Klee, Ernst, Matisse and Newman at the Foundation Beyeler Museum.
In Amsterdam, you can wander through the Van Gogh Museum, home to the largest collection of Van Gogh paintings and drawings in the world.
Along the way enjoy immersive culinary experiences such as a cooking demonstration in Tuscany, a farm-to-table spread in Switzerland, and a wine and olive oil tasting in Lucca.
This tour departs Oct. 6, 2019 and is priced at $7099 CAD per person double.
---
RIVER CRUISING
Passage to Eastern Europe
11 Days | Bucharest to Budapest
JUL-AUG 2019 Departures
Cruise from $4,749 CAD per person,
plus FREE Air*
You will discover the treasures and wonders of Romania, Bulgaria,
Serbia, Croatia and Hungary on this sailing through the Eastern Danube.
Cities of Light
10 Days | Paris to Prague
JUL-AUG 2019 Departures
Cruise from $4,999 CAD per person,
plus FREE Air*
This itinerary celebrates Europe's most luminous ports.
You can taste Moselle Rieslings and view stunning castles on this journey that includes two nights each in cosmopolitan Paris and Prague.
Paris to the Swiss Alps
12 Days | Paris to Zürich
JUL-AUG 2019 Departures
Cruise from $5,299 CAD per person,
plus FREE Air*
You will marvel at vineyard-flanked slopes and historic cities
on this irresistible cruisetour book ended by hotel stays in timeless Paris and lakeside Zürich.
---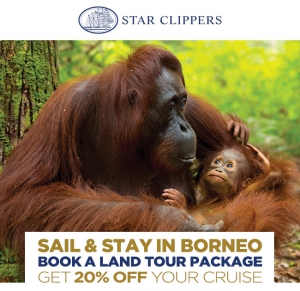 Extend your stay with one of our 4- or 7-day land tour packages and receive a 20% savings on your cruise.
Fares from CAD$1,944 pp for 10 nights from Singapore
to Borneo. Land Packages starting from CAD$989pp
Borneo is the world's third largest island and an exciting new addition to Star Clippers' Southeast Asia itineraries. Known for its beaches
and ancient, bio-diverse rainforests, it is home to many cultures, cuisines and exotic wildlife, including the orangutan, clouded leopards and the Irrawaddy dolphin.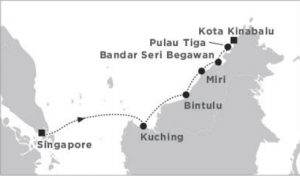 10 day cruise
May 18 to 28, 2019 or Oct 5 to 15, 2019
WAS $2430 with land package now $1944 plus port $440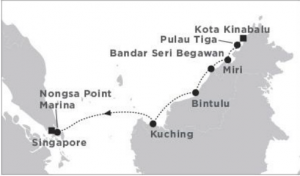 11 day cruise
May 28 to June 8, 2019 or Oct 15 to 26, 2019
WAS $2680 with land package now $2144 plus port $440
---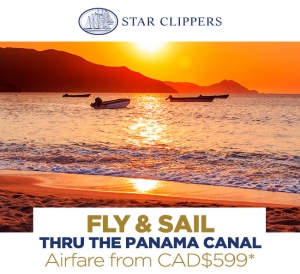 Sail thru the Panama Canal and in the Caribbean, visiting several ports in Panama, Colombia,
the ABC Islands and more one of our 14-night voyages on either Royal Clipper or Star Flyer.
Enjoy amazing sights from deck as the ship transits through the Panama Canal, a feat of engineering and hard-work. See the locks in operation and spot wildlife from toucans to crocodiles in this narrow but busy waterway. And when you book any of these sailings, airfare starts from only CAD$599! Gateways applicable are Montreal, Toronto, Vancouver or Calgary.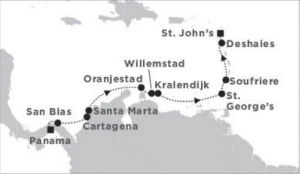 Nov 30 to Dec 14 from $3910 CAD port charges $540 per person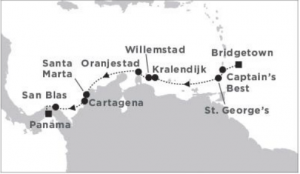 Nov 23 to Dec 7 from $3790 CAD port charges $590 per person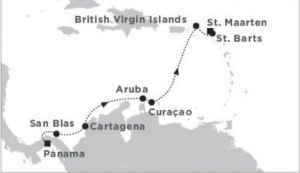 Dec 7 to 21 from $3790 CAD port charges $590 per person
---
Awe-Inspiring Alaska
Experience Alaska's monumental glaciers, towering majestic mountains, charming cities, thriving wildlife and special excursions on one incredible cruise and land tour with the #1 cruise line in Alaska. For 50 years Princess® Cruises has brought more guests to the awe-inspiring beauty of the Great Land than any other cruise line.
There's no better time to explore the wonders of Denali than now. Enjoy double spending money when you book your Alaska cruisetour now!
11 NIGHTS DENALI EXPLORER CRUISETOUR
4 Nights Land Tour + 7 Nights Cruise
Golden Princess®
September 10, 2019 – Additional dates available.
Anchorage, Denali, & McKinley, Alaska land tour; Anchorage (Whittier), Alaska; Hubbard Glacier (Scenic Cruising); Glacier Bay National Park (Scenic Cruising); Skagway, Alaska; Juneau, Alaska; Ketchikan, Alaska; Vancouver, British Columbia, Canada
Balcony fares from $4,036 per person
Exclusive Cruisetour Amenities:
• $50 USD shipboard credit per stateroom
• Music of Denali Dinner Theatre
• Tundra Wilderness Tour upgrade
• Husky Homestead Excursion
• 2 breakfasts Denali Princess Wilderness Lodge®
• 1 breakfast Mt. McKinley Princess Wilderness Lodge®