BANGKOK
As the capital and largest city of Thailand, Bangkok represents both its modernity and the evolution of its rich heritage. With soaring high-rises and a plethora of contemporary shopping centres and entertainment, Bangkok is one of Asia's most progressive and advanced cities. As it is a very popular tourist destination, the locals are very accommodating to foreigners, and even those who speak only English should have no problem navigating and taking in the city. But for those who are hoping to absorb the traditional Thai culture, it can easily be found throughout the city, most notably on the island of Rattanakosin, also called the "Old City". Ancient palaces and Buddhist temples are awe-inspiring sights and are a great gateway to learning about the city's heritage. Bangkok blends old and new world experiences to provide a vacation that's as unique as it is enlightening.
THAILAND AND LAOS ADVENTURE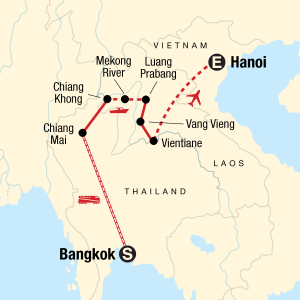 14 days, Bangkok to Hanoi
From the energy of Bangkok to the calm of Laos, this trip is a study in contrasts. Visit temples in Chiang Mai then spend the evening exploring the night market. Sail the Mekong into the heart and soul of Laos. An experienced Chief Experience Officer (CEO) will make sure you get the most out of your tour, but will leave plenty of time for you to do your own thing. We utilize many forms of transport (both public and private) to maximize time spent exploring the history and culture of this unforgettable region.
Explore Bangkok's canals
Discover Buddhist temples
Float down the mighty Mekong River
Get wet in the spray of waterfalls
May 13, 20 $1572 May 27, Aug 19, 26 $1849
June 17, 24, July 1, 6, 8, 13, 20, 22, 27, 29 $1899
Book by April 30,2019
Thailand Long Stay in Pattaya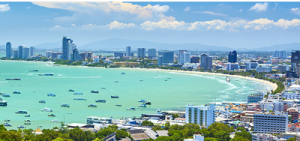 23 days – 21 nights – 20 breakfasts
Stay in the Bayview Pattaya which is 1 1/2 hour drive from Bangkok. This hotel is one of the best locations in town- just meters from the beach and next door to the all new Central Festival shopping mall.
Oct 31 to Nov 22, 2019 from Vancouver $2649 taxes included
Add ons from other Canadian cities available.
EXOTIK LEGENDS
17 DAYS / 15 NIGHTS
BANGKOK, CHIANG MAI, CHIANG RAI, SINGAPORE, BALI, HONG KONG
For the traveller wanting a complete tour of the Orient, this covers the most popular destinations. Visit Bangkok and northern Thailand, the city-state of Singapore, Bali-Island of the Gods, and finally, the ever popular Hong Kong. And if that's not enough, extend your stay with a visit to Cambodia or Laos. The possibilities are endless! This will truly be a trip to remember.
March 1 to May 30, 2019 from Vancouver $4799 from Toronto $5199
September 6 to Oct 31, 2019 from Vancouver $4899 from Toronto $5299
Add-on fares for other departure cities: Victoria CAD$ 70, Kelowna, Kamloops CAD$ 135
Calgary, Edmonton CAD$ 200, Winnipeg, Regina, Saskatoon CAD$ 270 Halifax, St.Johns NF CAD$ 365,Ottawa CAD$ 95
INCLUSIONS:
· Return air transportation from Vancouver or Toronto on Cathay Pacific Airways
· Canadian airport taxes from: (CAD $470)
· Domestic flights as per itinerary
· Return airport transfers
· English speaking local guides
· Accommodations in double occupancy
· Meals and sightseeing as per itinerary
Not included · Gratuities to hotel personnel, guides and drivers · Beverages · Optional excursions · meals not included.
3 nights Bangkok, 3 nights Chiang Mai, 3 nights Singapore, 3 nights Bali, 3 nights HongKong