Check this page frequently for time sensitive deals!  Call us to book or book on our search engine!!! 403-244-7114
Our DEALS page has more availability too!
Fares are applicable at time of print – please call or check OUR search engine for up to date pricing!
Occidental Punta Cana 4*
Punta Cana, D.R.
7 nights all inclusive – taxes included
Ottawa Oct 24 $1175
London April 1 $1985
Kitchener Dec 16 $1985
Hamilton Nov 08 $1625
Calgary Nov 11 $1825
Halifax April 17 $2095
Fredericton April 22 $1875
Moncton April 18 $2045
Deer Lake April 29 $1925
Gander April 29 $1985
St John's April 20 $2055
Winnipeg Nov 06 $2035
Book by June 30, 2019
---
Barcelo Maya Grand Resort 4+*
Mayan Riviera
7 nights all inclusive – taxes included
Ottawa Nov 16 $1685
Thunder Bay Dec 15 $1865
Windsor Dec 16 $1765
Sudbury Jan 8 $2115
Hamilton Dec 15 $1695
Edmonton Oct 24 $1385
Calgary Oct 17 $1385
Winnipeg Nov 18 $1945
Regina Nov 23 $1895
Saskatoon Nov 23 $1845
Vancouver Oct 15 $1395
Book by June 30, 2019
---
Barcelo Gran Faro Los Cabos 4+*
Los Cabos, Mexico
7 nights all inclusive – taxes included
Edmonton or Calgary Sept 7 $1115
Saskatoon Dec 14 $1965
Regina Dec 14 $1905
Vancouver Sept 9 $1195
Victoria Nov 11 $1865
Kelowna Dec 14 $1815
Book by June 30, 2019
---
OCCIDENTAL @ Xcaret Destination 4*
Mayan Riviera
This impressive complex has 765 recently refurbished rooms and suites
with a terrace or balcony, remarkable for the magnificent gardens that surround them.
It also features natural river formations,
7 swimming pools, a dolphinarium open for daily visits,
and a private bay with soft white sand.
7 nights all inclusive – taxes included
Calgary Oct 29 $1435
Kelowna Dec 13 $1845
Edmonton Oct 29 $1445
Vancouver Oct 29 $1455
Saskatoon Nov 16 $1745
Regina Nov 23 $1795
Winnipeg Nov 18 $1845
Halifax April 12 $1995
Moncton April 9 $1995
St John`s April 17 $2125
Ottawa Nov 15 $1585
Thunder Bay Nov 16 $1765
Kitchener April 8 $1865
Windsor Dec 16 $1665
Sudbury April 8 $1865
Hamilton Dec 15 $1595
Book with deposit by June 30, 2019
---
JEWELS OF IRELAND
14 Days/13 Nights
Save 15% off this great tour for a limited time – but act fast! This sale ends on Tuesday, June 18th!
Enjoy an Irish coffee at the South Pole Inn where you'll learn about Tom Crean, an Irish explorer who bravely journeyed to Antarctica.
Relax as you take in a special step-dancing display at the Cabra Castle Hotel.
Dining Experiences:
13 breakfasts (B), 1 lunch (L) and 10 dinners (D) including Taylors Three Rock and a medieval castle banquet.
Trip Highlights:
Blasket Centre, Brú na Bóinne, Dingle Bay Cruise, Donegal Castle, Giant's Causeway, Slieve League Cliffs,
Titanic Belfast, Hillsborough Castle
July 21, Aug 18, 23 $5350 $4547
Aug 2, 11, Sept 1, 8, 13, 15 $5415 $4602
Sept 20 $5225 $4440 Oct 4 $4770 $4054 Oct 6, 18 $4645 $3948
---
Mayan Adventure
22 days Playa del Carmen to Playa del Carmen
Leave the resorts of the Mayan Riviera behind and explore the authentic Yucatán. From sunny beaches and lush jungles to the highlands of Chiapas, journey through Belize, Guatemala, and southern Mexico on this incredible 22-day adventure. Explore the amazing ruins of Chichén Itzá, Palenque, and Tikal and walk the cobblestoned streets of colonial San Cristóbal de las Casas and Antigua. Snorkel with stingrays or just get into the reggae pace of life on a sunny Caribbean island. Experience a journey that introduces you to local culture and offers insight into the history of the Mayan heartland.
August 18, 25, Sept 8, 15, 22, Oct 6 $2654
Oct 13, 20, 2019, February & March 2020 $2949
November, 2019 April , May, June 2020 $3099
December 2019, January 2020 $3279
Book by June 30, 2019
---
Classic Vietnam & Mekong River cruise
If you're travelling Vietnam solely by land, you're missing out on half the adventure. This tour doesn't leave anything out. Cruise Halong Bay by junk boat; explore Hue's historic monuments; check out the My Son ruins; witness daily life along the Mekong as you drift into Cambodia; and so much more. The ultimate Southeast Asia experience awaits. Get on board.
17 days 
July 12, 26 $2664
August Oct 4, 18 $3074
August 23, Sept 6, 20 $2849
Nov 15, 29, Dec 13, 27, 2019 Jan 10 Feb 21, March 6, 2020 $4379
Book by June 30, 2019
---
BEST OF CAMBODIA & NORTHERN THAILAND
15 days, Ho Chi Minh City to Chiang Mai
Ancient ruins, fascinating cultures, and bustling cityscapes await on this 15-day tour through Vietnam, Cambodia, and Thailand. See Angkor Wat at sunrise with the help of a local expert, embark on a boat tour through Bangkok's small canals, and explore historical cities in the old capital city of Ayutthaya. Along the way, you'll get plenty of opportunities to learn about local villagers and traditional cultures through overnight homestays so that you're truly earning those stamps in your passport.
August 11, Oct 3, $1759 Sept 15 $1657
August 18, 25, Sept 1, 8, 29 $1949
July 4, 7, 19, Oct 6, 17, 20, 25, 27 29, November $2069
December, 2019 January & February 2020 $2199
March 2020 $2069
April & May 2020 $1949
Book by June 30, 2019
---
THAILAND FAMILY ADVENTURE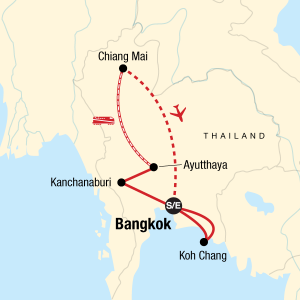 12 days, Bangkok to Bangkok
Why do some families go all the way to Thailand just to lie on the beach? We don't know either. Our family adventure mixes a whole lot of bona fide Thai experiences – everything from a longboat tour of Bangkok, a meeting with a hill tribe community, a cooking class in Chiang Mai and a sombre visit to the infamous bridge over the River Kwai – with a little bit of sand and surf!
July 14, 21,  $1317 Book by June 30, 2019
July 4, August 4, Dec 22, 29, 2019 Jan 5, 2020 $1549
---
DANUBE SERENADE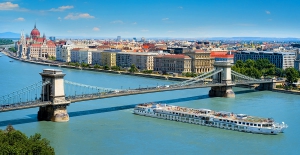 CRYSTAL MOZART – 5* all inclusive cruising
Let the spectacular Danube take your breath away with its beauty and serenity. You'll explore astonishing castles, timeless fortresses and scenic vineyards on an all-inclusive, 7-ni‌ght river cruise, with savings up to $1,400 per suite when booked by June ‌30, ‌2019. Crystal Mozart will mesmerize you and transport you into the heart of Europe's most storied landscapes. Europe's only all-suite river ships featuring king-sized beds and personal butler service in every suite.  Farm-to-table dining featuring Crystal's innovative and acclaimed Michelin-inspired cuisine. Unlimited fine wines, champagnes, premium spirits and beers.
Ports:
Vienna (overnight), Krems, Spitz, Linz, Melk, Austria; Bratislava, Slovakia; Budapest, Hungary (overnight)
INCLUDES up to $700 Book Now Savings per Guest
7 nights: July 13, 20, August 3, Oct 10, 28, Nov 4 or 18, 2019
$2050 USD per guest
---
SAILING THAILAND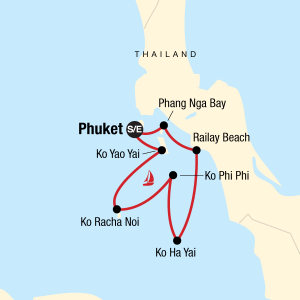 7 days, Phuket to Phuket
Go island-hopping in Thailand and experience some of the best snorkelling in the world. Enjoy a week aboard our sailing catamaran and discover what makes Thailand special. With an experienced captain navigating the southern islands, you'll drop anchor at highlights and secret spots perfect for a swim. Work up an appetite snorkelling, dine on Thai cuisine, and sleep moored under the stars. This trip is perfect on its own or as an add-on with our other Thai adventures.
Saturday sailings:
Sept 28 $1599  Book this date by June 30, 2019
Oct 5, 12, 19, 26 $2429
Nov 1, 9, 16, 30, 2019 Feb & March 2020 sailing $2559
Dec 7, 14, 21, 28, 2019 Jan 4, 11, 25, 2020 $2679
Jan 18, 2020 $2249
---
TREKKING MONT BLANC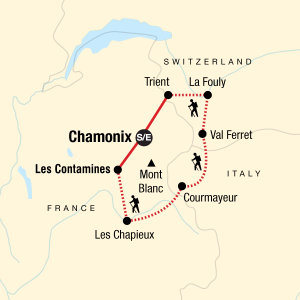 10 days, Chamonix to Chamonix
Experience the rarified air of Europe as you trek the Alps from France to Italy and Switzerland along the Tour du Mont Blanc. This challenging hiking circuit will reward you with mesmerizing views of glaciers, steep valleys, and, of course, Mont Blanc itself. Travel across high passes and through Alpine meadows, recharging at night with delicious mountain cuisine in simple refuges. Challenge yourself to conquer one of the world's premiere hiking routes, uncovering the alpine heart of Europe on this incredible active adventure.
July dates $2099
August $2099 to $2219
Sept $2219
Book by June 30, 2019
---
CLASSIC THAILAND – EAST COAST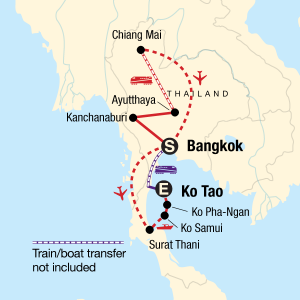 14 days, Bangkok to Ko Tao
With a fascinating culture, beautiful natural landscapes, and some of the tastiest street food on the globe, Thailand is a adventurers' haven. Embark on this 14-day tour along the country's east coast to get a unique glimpse into this Southeast Asian country with some additional northern Thailand highlights. Explore the smaller "klong" canals of the Chao Phraya river, stay overnight in a traditional floating rafthouse in Kanchanaburi, and tour the majestic Bridge on the River Kwai. There's plenty of time to relax on Thailand's tropical sands and bond with your travel mates at beach bars in between.
July 15, 22, Oct 14 $2339 Aug 26, Sept 2, 9, 16 $2149
August 19, Sept  23 $1827 Book by June 30, 2019
---
Air Canada Vacations Winter Early-Bird Sale
$500 off per family + FREE travel protection with a deposit of only $50 per person!
Book by Jun 30, 2019
Take $500 off per family or $300 off per couple!
+ FREE Travel Protection* with a deposit of only $50 per person
Applicable to: vacation packages in Mexico, the Caribbean, South & Central America
*Get Air Canada Vacations CareFree & CareFlex Travel Protection plans FREE
Exclusive travel protection plans let you book vacations with peace of mind.
• The trusted CareFree plan makes travelling less stressful so you can focus on having a perfect vacation.
• The new CareFlex plan allows you to change your booking, transfer your package, and cancel with a full refund up to 3 days before departure.
Be sure to ask our travel advisor about these plans!
The Caribbean & Mexico
Where to go? That's the only question you'll have to ask yourself before experiencing your dream all-inclusive vacation in Mexico or the Caribbean. With so many sun destinations to choose from, your stay can be relaxing, inspiring, bold, or luxurious…anything you want it to be and more! From white-sand beaches to lush landscapes where the sun always shines, the choice is yours.
---
THAILAND AND LAOS ADVENTURE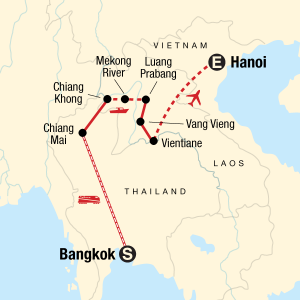 14 days, Bangkok to Hanoi
From the energy of Bangkok to the calm of Laos, this trip is a study in contrasts. Visit temples in Chiang Mai then spend the evening exploring the night market. Sail the Mekong into the heart and soul of Laos. An experienced Chief Experience Officer (CEO) will make sure you get the most out of your tour, but will leave plenty of time for you to do your own thing. We utilize many forms of transport (both public and private) to maximize time spent exploring the history and culture of this unforgettable region.
Explore Bangkok's canals
Discover Buddhist temples
Float down the mighty Mekong River, Get wet in the spray of waterfalls
July  13,  22, 27, 29,  Oct 3 $1614
August 19, Sept 9, 30, $1572 
August 5 & October $1899
August 26, Sept 16 $1849
Nov, Dec, 2019 Jan, Feb March 2020 $1969
Book by June 30, 2019
---
Exploring Greece and Its Islands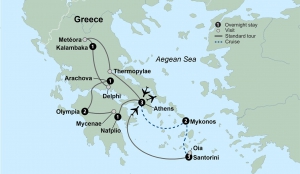 Featuring Classical Greece, Mykonos & Santorini
Discover the magnificent ruins of ancient Greece in their tranquil Mediterranean settings. This comprehensive journey explores Greece's most important ancient monuments, like the famed Temple of Zeus, archeological site of Olympia and ancient artifacts of Delphi. Explore Athens your way – choose a tour of the incredible Acropolis, or embark on a walking tour of some of the city's hidden gems. Visit a local farm in the countryside to see how olive oil and wine are produced. Learn how to cook traditional Mediterranean cuisine during a cooking demonstration. Wander the winding streets, vineyards, marketplaces and beaches of Mykonos and Santorini. Explore the excavations of the ancient city at Akrotiri, the most important prehistoric settlement found anywhere in the Eastern Mediterranean. In Athens, enjoy traditional cuisine, wine and entertainment at a family-owned taverna in the lively Plaka district. Learn the history of this fascinating country from local experts on guided tours of Athens, Meteora, Delphi, and Olympia.
15 days/14 nights: 22 Meals, 13 Breakfasts, 1 Lunch, 8 Dinners
2019:  Oct  13, 17, 20 $4399
2020:  April 2, 5, 16 $4399
March 29, 2020 on sale! $4199 book by June 30, 2019
---
Indochina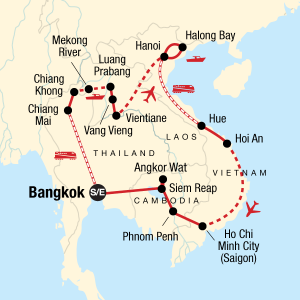 29 days, Bangkok to Bangkok
From the vibrant cityscape of Bangkok to Halong Bay's magnificent limestone karsts, this trip encompasses the highlights of Indochina. Marvel at the wonders of Angkor Wat, sail the Mekong, and savour noodles in Hoi An. Shop for souvenirs in Ho Chi Minh City and join the locals sipping coffee at a lakeside café in Hanoi. With hotels, transport, and a number of included activities arranged by the tour Guides, this adventure offers up the perfect combination of must-see highlights and free time.
July 20, 22, Oct 3 $3654
August 19, Sept 9 $3501
August 26, Sept 16, 30 $4119
Nov, Dec, 2019 Jan, Feb March 2020 $4459
Book by June 30, 2019
---
Majestic Mekong Discoverer river cruise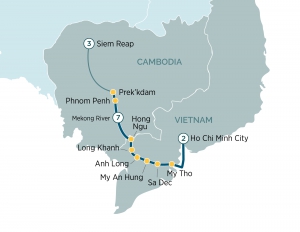 13 days Siem Reap to Ho Chi Minh City
From $5565 CDN per person* with FREE AIR
Your journey begins in Siem Reap, where early mornings and ancient architecture promise to be the perfect combination.
Your 7-night cruise includes visits to fascinating Angkor Wat and Angkor Thom.
Free air from: Calgary, Edmonton, Regina, Saskatoon, Winnipeg, Vancouver, Toronto, Ottawa, Montreal & Halifax
Oct 2 $6565 Oct 10, 16 $5565 Oct 30 $5765 Dec 11, 19, 25 $5565
Book by July 31, 2019
26 meals, 11 breakfasts, 6 lunches and 9 dinners included as well as wine and beer with lunch & dinner.
all transfers, wifi and gratuities included too!
---
5* Canada & New England
all inclusive cruise

!

11 nights
Sailing from Boston to Montreal or vice versa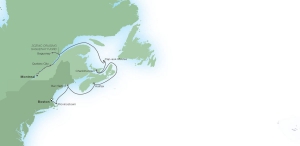 All inclusive Verandah suite for the price of an oceanview!
Book by July 31, 2019!
August 30 – 11 days- sailing Montreal to Boston $5609
Sept 10 – 11 days – sailing Boston to Montreal $6606
Sept 21 -12 days Montreal to Montreal
Oct 3 – 11 days – sailing Montreal to Boston $5609
Oct 14 – 11 days -sailing Boston to Montreal $5858
Oct 25 – 12 days – sailing from Montreal to Miami
**taxes from $439 to $574
---
---
An Art Lover's Taste of Europe: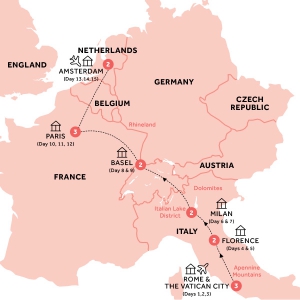 New for 2019, this 15-day cultural journey is an art aficionado's dream. You will visit iconic museums, galleries, churches, monasteries in four countries and immerse Yourself in the painting, sculpture and architecture of the European masters.
In Rome, you avoid the crowds with VIP entry to the Vatican Museums and get behind-the-scenes access to the Bramante Staircase, a marvel of Renaissance architecture that's normally off limits to visitors.
You will get a totally different perspective of the Louvre Museum in Paris by seeing it at night, including works such as the Mona Lisa, the Winged Victory of Samothrace, and Venus de Milo.
In Basel, you will see masterpieces by Cezanne, Picasso, Rousseau, Mondrian, Klee, Ernst, Matisse and Newman at the Foundation Beyeler Museum.
In Amsterdam, you can wander through the Van Gogh Museum, home to the largest collection of Van Gogh paintings and drawings in the world.
Along the way enjoy immersive culinary experiences such as a cooking demonstration in Tuscany, a farm-to-table spread in Switzerland, and a wine and olive oil tasting in Lucca.
This tour departs Oct. 6, 2019 and is priced at $7099 CAD per person double.
---
Awe-Inspiring Alaska
Experience Alaska's monumental glaciers, towering majestic mountains, charming cities, thriving wildlife and special excursions on one incredible cruise and land tour with the #1 cruise line in Alaska. For 50 years Princess® Cruises has brought more guests to the awe-inspiring beauty of the Great Land than any other cruise line.
There's no better time to explore the wonders of Denali than now. Enjoy double spending money when you book your Alaska cruisetour now!
11 NIGHTS DENALI EXPLORER CRUISETOUR
4 Nights Land Tour + 7 Nights Cruise
Golden Princess®
September 10, 2019 – Additional dates available.
Anchorage, Denali, & McKinley, Alaska land tour; Anchorage (Whittier), Alaska; Hubbard Glacier (Scenic Cruising); Glacier Bay National Park (Scenic Cruising); Skagway, Alaska; Juneau, Alaska; Ketchikan, Alaska; Vancouver, British Columbia, Canada
Balcony fares from $4,036 per person
Exclusive Cruisetour Amenities:
• $50 USD shipboard credit per stateroom
• Music of Denali Dinner Theatre
• Tundra Wilderness Tour upgrade
• Husky Homestead Excursion
• 2 breakfasts Denali Princess Wilderness Lodge®
• 1 breakfast Mt. McKinley Princess Wilderness Lodge®