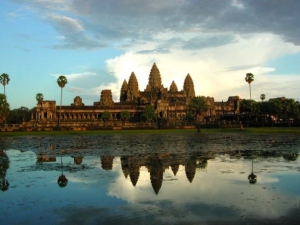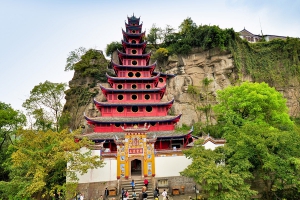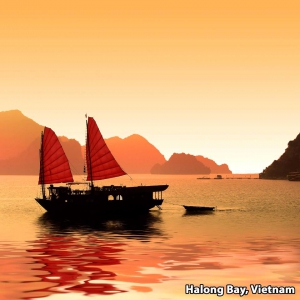 Asia
The Asian continent is home to some of the most spectacular cities in the world, like Kyoto, Toyko, Hong Kong, Seoul, Singapore, Beijing, Bangkok and Siem Reap, Cambodia jus to name a few. These major cities are complemented by vast countryside, making up an appealing combination throughout Asia of secluded and fast-paced environments.
Not only is Asia known for it's mouth-watering dishes, but it is also known for its many street vendors. Instead of the best food being found in fancy restaurants like you may typically be used to, you can actually find some of the tastiest meals from the carts and stalls lining the streets in many Asian cities. If you are on a mission for street food, some of the top cities where you will find success are Penang, Bangkok, Fukuoka, Hanoi, Singapore, and Seoul, just to name a few.
Asia is home to more temples than any other continent in the world. It is also the place where many of the world's mainstream religions and beliefs were born. Therefore, a visit to Asia would not be complete without stopping to see at least a few of its majestic temples. Angkor Wat, one of the most famous temples, is the largest religious monument in the world and is located in Cambodia. Balanced on the edge of a 3,000 foot high cliff, the Taktsang Dzong temple is a well-recognized symbol of Bhutan. Finally, the Temple of Heaven dating back to the early 1400s is an impressive site to see and is also surrounded by a large public park, the grounds where many locals will practice tai chi throughout the week. However, these few barely scratch the surface of the incredible architecture, history, and detail that is found in the many temples throughout Asia.
BORNEO & MT KINABALU ENCOMPASSED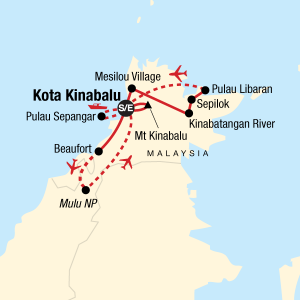 17 days, Kota Kinabalu to Kota Kinabalu
Want to see all of Sabah (seriously, like all of it)? Here are 17 days that'll check off every possible box you could hope to throughout this tropical paradise. Summit Kinabalu, explore the perfect island of Pulau Tiga (where they shot a season of Survivor), visit the inspiring Sepilok Orang Utan Rehabilitation Centre, and experience Mulu National Park. Don't come to Sabah without getting to see all of it. We got your ticket right here.
On Sale! May 2, 30 June 6 $3518
Book by Feb 29, 2020
July, Aug $4139 Sept, Oct $4019 Nov 7 $3899
Indochina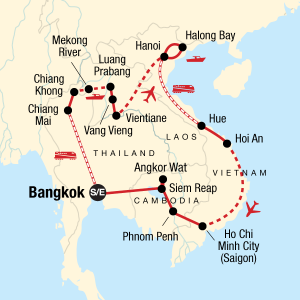 29 days, Bangkok to Bangkok
From the vibrant cityscape of Bangkok to Halong Bay's magnificent limestone karsts, this trip encompasses the highlights of Indochina. Marvel at the wonders of Angkor Wat, sail the Mekong, and savour noodles in Hoi An. Shop for souvenirs in Ho Chi Minh City and join the locals sipping coffee at a lakeside café in Hanoi. With hotels, transport, and a number of included activities arranged by the tour Guides, this adventure offers up the perfect combination of must-see highlights and free time.
Onsale!  Mar 9 $3807 April 1, 6, 16, 27 $3671 May 4, 11 $3501  Book by Feb 29, 2020 
Mar 12, Nov & Dec $4779
Mar 19, 23, 30 June 22, 29, July, Aug, Oct $4319
April 2, 13, 20 $4319
May 11, June 15, Sept $4119
NORTHERN PHILIPPINES AND PALAWAN ADVENTURE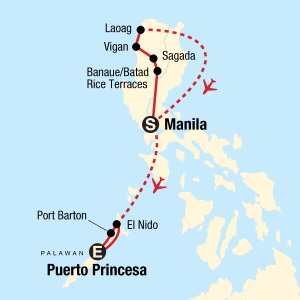 16 days, Manila to Puerto Princesa
The colourful culture, pristine beaches, and colonial history of the Philippines aren't easy to capture in just one trip but this 16-day tour is a pretty decent effort. Envelop yourself in colonial history within Manila's former walled centre and the charming town of Vigan, embark on a subterranean boat ride through an underground cave system, and visit a self-governing penal colony. The Philippines' beaches are some of the world's best, so we've left plenty of time for snorkelling or simply just lounging on the beaches of El Nido. This way, your knowledge of the country will only deepen alongside your tan.
2020: Feb 5, 26, May 19, Nov 19, Dec 10, 31 $4139
April 9, 30 May 21 $3899
VIETNAM & CAMBODIA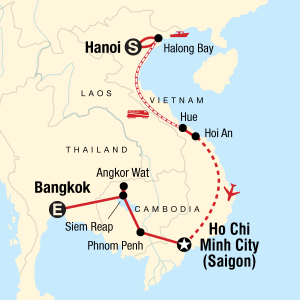 A wide-ranging adventure showcasing the region's natural wonders and fascinating cultures, this 17-day trip offers a combination of guided excursions and free time to explore beaches, ruins, urban culture, and awe-inspiring landscapes. Cruise the Mekong for a day and overnight on a traditional sailing junk boat in Halong Bay. Witness the heights of Cambodia's past at Angkor Wat, and contemplate its lows by walking the infamous Killing Fields. Although many activities are included, there is still plenty of time to explore on your own and create the ultimate adventure.
2020:
Feb 23, 26, 27, 29, Mar 1 to 15 departures, Nov, Dec $2699
March 17 to 31 departures April, July, August, Oct $2569
May, June, Sept $2449
2021:
Jan, Feb Mar 1 to 15 departures $2699
Mar 17 to 31 departures, April $2569
CLASSIC BALI & LOMBOK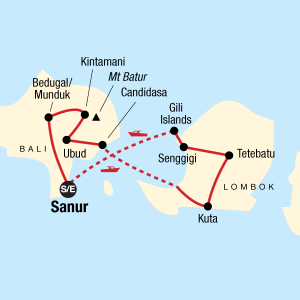 14 days, Sanur to Sanur
Snorkel the warm tropical waters and watch Balinese shadow puppets dance in the night. Marvel at floating palaces and temples. Experience the best of Bali and Lombok on this adventure, offering you the perfect combination of guided excursions and free time to explore these fascinating islands at your own pace. Cool your heels in secluded waterfall pools and relax in the laid-back Gili Islands. Our CEOs will bring you off the beaten path, where you'll meet these islands' locals and gain insight into a completely different way of life.
May 20, Nov 8, 15, 20, 29, Dec 6, 13, 20, 25 $2099
May 1, 10, 15, 29 31, June 5 $2219
Jun e19, 21, 22, July & Aug departures $2339
2021: Jan 3, 10, 24, 29, Feb 7, 21, 28 March $2099
BEST OF CAMBODIA & NORTHERN THAILAND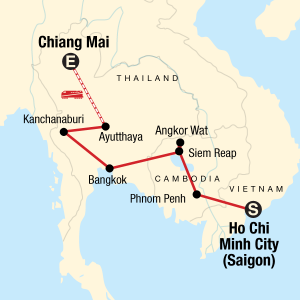 15 days, Ho Chi Minh City to Chiang Mai
Ancient ruins, fascinating cultures, and bustling cityscapes await on this 15-day tour through Vietnam, Cambodia, and Thailand. See Angkor Wat at sunrise with the help of a local expert, embark on a boat tour through Bangkok's small canals, and explore historical cities in the old capital city of Ayutthaya. Along the way, you'll get plenty of opportunities to learn about local villagers and traditional cultures through overnight homestays so that you're truly earning those stamps in your passport.
ON Sale! April 27, May 17, 31 $1657
Book by Feb 29, 2020
Feb 28, $2199 Mar 6, 15, 22 $2069
April 8, 12, 17, 19 May 24, Sept $1949
June, July Aug, Oct $2069
---
JAPAN EXPRESS: OSAKA TO TOKYO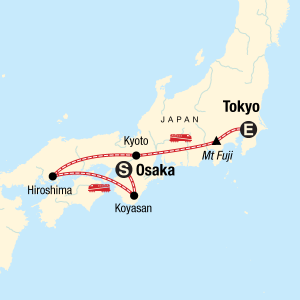 9 days, Osaka to Tokyo
From the Buddhist monks of Kōyasan to the high rollers of Tokyo, see the many faces of Japan on this condensed tour beginning in Osaka. Savour the region's culinary delicacies and the beautiful views at Mt Fuji. You'll stay in a traditional ryokan and really soak up local culture in onsen hot springs. A great combination of the traditional and the contemporary, this adventure provides a taste of the rich culture of Japan.
2020:
Feb 23 $2932
March 21, 26, 28, April 2 $3331
April 29 $3195
Book by Jan 31, 2020
CAMBODIA & VIETNAM: BONFIRES & BANH MI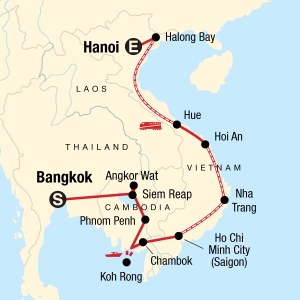 20 days, Bangkok to Hanoi
Begin in Bangkok—a city that never sleeps—and end by braving Hanoi's bustling streets. Plug into Cambodia and Vietnam on this electric journey with breaks to bliss out on white-sand beaches. Get a history lesson exploring Angkor Wat and walking Ho Chi Minh City's streets. With your accommodation and transport arranged by our expert CEOs, this adventure offers a great combination of must-see highlights and free time to explore on your own
2020: Jan, Feb, Mar, July Aug Nov, Dec $1929
April, May June, Sept Oct $1829
2021: Jan, Feb, Mar $1929
Splendors of Japan and Korea
15 Days
Osaka – Nara – Kyoto – Nagoya – Mount Fuji – Tokyo – Seoul – Andong – Busan – Dageu – Gyeongju – Seoul
Immerse yourself on an incredible journey covering two fascinating countries, Japan and South Korea. Discover South Korea's capital city, Seoul. Seoul is Korea's financial, political, commercial and cultural centre with over 600 years of history. Travellers can explore the many archaeological sites and temples before enjoying the beautiful natural landscapes this country has to offer. After an enchanting tour of South Korea, you will explore one of the most beautiful countries in the world, Japan. Discover a new level of cool with a journey through cherry blossoms, mountains, bustling cities and ultimately, history. The combination of places visited in these two countries will provide you with an unforgettable life-time experience. Make sure you are packing already!
• Return international airfares from Vancouver
• Airline taxes & fuel surcharges
• All intra-flights: Osaka – Seoul
• 13 nights 3-4 star First Class accommodations
• Hotel taxes, fees & service charges
• Shinkansen ticket from Osaka to Kyoto (bullet Train)
• Lake Ashi Cruise and West Lake Boat Ride
• Japan airport shuttle bus arrangements and all transfers
• Meals and featuring regional delicacies
• Sightseeing per itinerary in modern air-conditioned motor coach
• Services of English-speaking tour guides
• Entrance fees
• 13 breakfast, 1 lunch and 2 dinners
2020:  April 1 $4399
May 6, Sept 2, 8 Oct 14, 21 $4199
Nov 4 $4399
Nov 11 $3999
**Add on from Toronto +$300
ICONIC THAILAND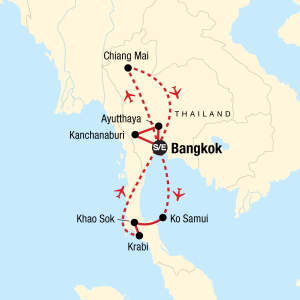 15 DAYS, BANGKOK TO BANGKOK
Hit the highlights of Thailand on a 15-day adventure that strikes a balance between cultural landmarks and stunning beaches, activity and relaxation. Up north, ponder the River Kwai and eat your way through Chiang Mai. Then head to the southern shores for some downtime at Ko Samui and Krabi. Along the way, bask in the radiance of golden temples, enjoy long-tail boat rides, and learn to cook authentic Thai food. National Geographic tour!
2020:
Mar 1, 15, June 7, Aug 2 Oct 25, Nov 8, 22 $3569
April 12, May 10, Aug 30, Sept 27 $3449
Dec 6, 20 $3679
2021:
Jan 3, 17, 31, Feb 14, 28, $3679
Mar 14, 28 $3569
Taste of Vietnam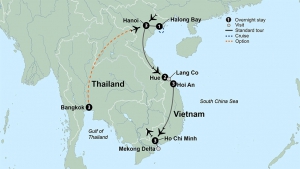 13 days/12 nights 21 meals
Delve into an ancient and mysterious world; a world rich in culture and fascinating history. A poetic, verdant paradise, where villages thrive in rural landscapes, and bustling cities keep one step firmly in the past and another pointed to the future. From Hoam Kiem Lake and the Hoa La prison, to a street food adventure through the city, Vietnam's balance of peace, modernism and prosperity engage your thoughts and senses around every turn. On a luxury junk boat, bask in the serenity of Halong Bay. Learn the secrets of Vietnamese cuisine during a cooking class. Bear witness to Vietnam's Imperial past at the Thien Mu Pagoda in Hue, and on the Mekong Delta, watch as history dances with nature on emerald waters. This is Vietnam, a fascinating mosaic of culture and history that unfolds with every new blink of the eye.
2020: , March 20, April 3, 17, 24 $2399
CRUISE VIETNAM & CAMBODIA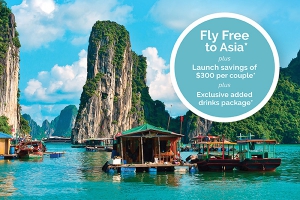 2020 and 2021 Mekong River Cruises
Start planning your Mekong river adventure today! The newly released second season of departures from July 2020 to April 2021 on board the newest Star-Ship, Emerald Harmony, are selling quickly. Emerald Harmony introduces a new generation of luxury to the Mekong, fusing together authentic Asian style with all the modern amenities of a world class hotel. Cruise in comfort exploring new and exotic villages and cities getting up close and personal experiences with our EmeraldPLUS included excursions.
13 days Siem Reap to Ho Chi Minh City
From $5565 CDN per person* with FREE AIR
Your journey begins in Siem Reap, where early mornings and ancient architecture promise to be the perfect combination.
Your 7-night cruise includes visits to fascinating Angkor Wat and Angkor Thom.
Free air from: Calgary, Edmonton, Regina, Saskatoon, Winnipeg, Vancouver, Toronto, Ottawa, Montreal & Halifax
2019:
Oct 2 $6565 Oct 10, 16 $5565 Oct 30 $5765 Dec 11, 19, 25 $5565
Book by July 31, 2019
26 meals, 11 breakfasts, 6 lunches and 9 dinners included as well as wine and beer with lunch & dinner.
all transfers, wifi and gratuities included too!