Explore Central America holidays and discover the best time and places to visit.  With cerulean seas and verdant forests, magnificent Maya ruins and smoking volcanoes, Central America is like a tropical fairy tale – except all of it is real.
Amazing natural beauty. Whether it's rainforests, tropical beaches, lava-spewing volcanoes or massive lakes you are after, Central America has them in spades. Home of ancient Mayan ruins. Explore ancient archeological sites in Mexico, Gautemala and Honduras, some of which are monumental in size while others are smaller and tucked deep in the jungles, making you feel like Indiana Jones making a new discovery.
Explore Costa Rica
14 DAYS – SAN JOSÉ TO SAN JOSÉ
Costa Rica may be small but it offers big adventure. This two-week tour ventures off the beaten path to a lush and wild world. Stop in at a reforestation project, visit a sea turtle conservancy program, opt to zip-line through the jungle canopy, and have a soak in volcanic hot springs. Riding a wave of "pura vida," experience pure travel joy.
2019:
Sept 8 $2337 Oct 27 $2474
November $2749 to $2869 December $2869 to $2979
2020:
January, March $2869 to $2979
February $2869
April , May $2749
Costa Rica Adventure
16 days
San José to San José
If you're looking for a taste of Costa Rica's world-class highlights but want to keep things spicy with a sampling of hidden treasures, this action-packed adventure tops the menu. In spite of its small size, Costa Rica is one of the most biologically diverse countries in the world with volcanoes, wildlife, rainforests, and beaches to explore. This adventure offers a great balance of guided excursions and free time. Optional activities abound — choose to get your adrenaline pumping or take it easy with a stroll through a butterfly garden.
2019:
Sept 14, 21 $1614 Spet 28, Oct 5, 12, 26 & November $1899
Oct 24 $1709 December $1999 to $2079
2020:
January $1999 to $2079
February, March $1999 April, May $1899
COSTA RICA & PANAMA QUEST

16 days, San José to Panama City
Sept 6, 2019 April 17, May 1, 15, 2020 $2399
Oct 11, 2019 $2039
Nov 22, Dec 6, 2019 Feb 7, 28, March 13, 2020 $2519
Dec 20, 2019 $2629
Natural Wonders of Costa Rica with Guatemala & Guanacaste
15 Day Tour from Guatemala City to Guanacaste
In Antigua, Guatemala, step back in history as you explore the ruins of churches and monasteries along with restored colonial buildings. Perhaps pick up a unique Guatemalan handicraft to bring back home from the open-air Indian market. Then travel to Costa Rica and witness bountiful wildlife in their natural habitat, enjoy relaxing dips in ecothermal hot springs, and learn about the Costa Rican culture on this thrilling adventure.
Among the many highlights of this tour is Tortuguero National Park, where you'll take a boat ride along remote, unspoiled sections of the park to view wildlife. Your guide will look out for the wildlife—including freshwater turtles, egrets, toucans, and monkeys—so you can sit back, relax, and take plenty of pictures. Another tour highlight is the Arenal Volcano, considered one of the most active volcanoes in the world. Relax as you soak in the ecothermal hot springs and perhaps watch the lava flow down the volcano—a spectacular sight! In Monteverde, visit the Santa Elena Cloud Forest Reserve, home to forest fauna such as jaguars, resplendent quetzal, monkeys, ocelots, and many species of birds—not to mention the large diversity of plant species. Even more amazing scenery awaits you in Guanacaste, where you'll have three nights to partake in the many activities, including rainforest canopy tours, river rafting, horseback riding, snorkeling, watching breathtaking sunsets, hiking, or just relaxing on the beach.
This tour to Costa Rica has it all—wildlife, scenic waterways, tropical rainforests, spectacular beaches, and knowledgeable guides to help you learn about Costa Rica.
2019: Oct 8, Dec 3 $5025
2020: Jan 14, Feb 4, 11, 18, Mar 3, 24 $5166
Costa Rica
7 day San Jose to San Jose
On this Costa Rica tour, you'll spend two nights each in San José, Monteverde, and Arenal.
The verdant cloud forest of Monteverde is one of the most bio-diverse areas on the planet. Here, search for wildlife as you explore Santa Elena Cloud Forest Reserve—home to jaguars, resplendent quetzals, pumas, monkeys, sloths, ocelots, many species of birds, and a large diversity of plant species—with an expert Naturalist. In Arenal, located in the shadow of Arenal Volcano (considered one of the world's most active volcanoes), visit the Arenal Hanging Bridges. Made up of 15 bridges suspended in the treetops, you'll see the flora and fauna from a different perspective. Be sure to have your camera ready for when your Naturalist points out monkeys, sloths, butterflies, birds, and other animals commonly seen here.
2019:  Sept 21, Oct 12, 26 Nov 16  $869
2020: Jan 4, 11, 18, Feb 8, 15, 22 March 7, 21 $929
Prices are per person in single, double or triple room occupancy.
COSTA RICA & PANAMA QUEST
16 days, San José to Panama City
Sept 6, Oct 11 $2039
Nov 1, 2019 April 17, 2020 $2399
Nov 22, Dec 6, 2019 Feb 7, 28, March 13, 2020 $2519
Dec 20, $2629
CLASSIC BELIZE & TIKAL
9 days, Belize City to Caye Caulker
If we had to describe the Belizean pace it would be somewhere between slowly rolling waves and the inquisitive speed of a ruin explorer. Embracing just that mix of curious and chill, this nine-day itinerary will let you tour Mayan ruins, cycle around stunning islands, and enjoy plenty of time to hang out on the beach or dive into the famous Blue Hole. Be speedy, or a bit sloth-like — we'll help you discover Central America either way.
Oct 19, 2019 Feb 1, 15, 29, March 7, 14, 21, 2020 $1299
Nov 16, 2019 April 4, 18, 2020 $1369
Dec 14, 28, 2019 Jan 11, 18, 2020 $1429
Trek Hidden Costa Rica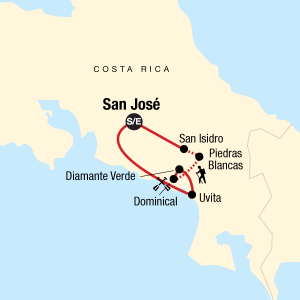 Think you know Costa Rica? Trade in the same old settings for the real deal. Trek into the heart of the jungle to live with three families in a remote village. Discover the emerald core of a diverse land while bunking down behind a massive waterfall in a hidden cave. Learn about the medicinal plants native to these parts and how to make sugar cane candy. This is a spectacular country with opportunities for waterfall rappelling, surfing, and whitewater rafting. This is what adventure is all about.
12 days San José to San José
Nov 2 $1784
Nov  16, Dec 7, 2019 Jan 18, 25, Feb 8, 22 March 7, 14, 21 $2229
Dec 21, 28 , 2019 Jan 4, 2020 $2349 April 11, 25, May 9, 23 June 27, 2020 $2099 
Mayan Adventure
22 days Playa del Carmen to Playa del Carmen
Leave the resorts of the Mayan Riviera behind and explore the authentic Yucatán. From sunny beaches and lush jungles to the highlands of Chiapas, journey through Belize, Guatemala, and southern Mexico on this incredible 22-day adventure. Explore the amazing ruins of Chichén Itzá, Palenque, and Tikal and walk the cobblestoned streets of colonial San Cristóbal de las Casas and Antigua. Snorkel with stingrays or just get into the reggae pace of life on a sunny Caribbean island. Experience a journey that introduces you to local culture and offers insight into the history of the Mayan heartland.
Sept 15, 22 $2359
Oct 13, 20, 2019, $2359  February & March 2020 $2949
November, 10, 14, 17, 24  $3099
December 2019, January 2020 $3279