Croatia's extraordinary coastline is indisputably its main attraction. The first thing that strikes you is the remarkable clarity of the water. When it's set against a dazzling white pebbly beach, the water sparkles with a jewel-like intensity in shades of emerald and sapphire. There are long sandy beaches– perfect for lazy days spent lounging and reading till you heart is content. There are lots of water activities to lure you off your sun lounger – snorkelling, diving, kayaking, windsurfing and sailing, just for starters.
Michelin stars have been awarded to two Croatian restaurants, effectively boosting the country's reputation as a top gourmet destination. Check the Culinary Delights page for Culinary tours of this region.
ESCAPE TO THE DALMATIAN COAST
You will savour the tastes of island life in 2020 on board our intimate ocean yacht sailing along Croatia's stunning Dalmatian Coast.
The spacious and luxurious public areas include an air-conditioned restaurant with a separate well-stocked bar and intimate lounge area. On the Sun Deck, You will enjoy the ocean breeze as you raise a toast with new friends.
Just what makes exploring Croatia from on board our yacht the perfect escape? We have four reasons (at least!) for you below.
SPECIAL OFFER AVAILABLE!
Save $1,500 per person on 16+ day itineraries, or
Save $1,000 per person on 8-15 day itineraries.
Hurry! Offer ends December 31st.
Cruise from just $2,895*
Sail, Italy, Greece & Croatia
Norwegian Getaway
Stroll the Waterfront, an innovative, industry-first open-air promenade designed to connect guests with the ocean like no other cruise line. Experience the thrill of five water slides, and three levels of action-packed activities in the sports complex. The excitement and entertainment continue with Broadway musical Million Dollar Quartet
ALL-INCLUSIVE Cruise Package including international flights, greeting and transfers, 1-night pre-cruise with breakfast included in Rome, 10 nights on the Norwegian Getaway cruise ship including the premium beverage package with tips, the 4-meals specialty dining package with tips and a USD $100 onboard credit!
Sail from Rome to Kotor, Dubovnik, Corfu, Santorini, Mykonos, Naples, Florence, Rome
11 Nights / 13 Days
May 06, 26, 2020
Montreal & Toronto: from $4277 Interior Stateroom
Ottawa, Edmonton Calgary, Vancouver & Halifax: from $4477 Interior Stateroom
Upgrade package to Ocean View Stateroom: + $698 p.p.
Upgrade package to Balcony Stateroom: + $1298 p.p.
June 16, July 7, Aug 18, Sept 8, 2020
Montreal & Toronto: from $4377 Interior Stateroom
Ottawa, Edmonton Calgary, Vancouver & Halifax: from $4577 Interior Stateroom
Upgrade package to Ocean View Stateroom: + $848 p.p.
Upgrade package to Balcony Stateroom: + $1298 p.p.
September 29, Oct 20, 2020
Montreal & Toronto: Starting from $3977 Interior Stateroom
Ottawa, Edmonton Calgary, Vancouver & Halifax: from $4177 Interior Stateroom
Upgrade package to Ocean View Stateroom: + $598 p.p.
Upgrade package to Balcony Stateroom: + $998 p.p.
*BONUS for Ocean View & Balcony Stateroom: USD $50 off on shore excursions per cabin per port and 250 minutes WI-FI package on board!
Package includes:
-Round-trip international flights between Canada / Rome with good itineraries
-Transfers between the airport, the hotel, and the port of Rome
-1-night pre-cruise in Rome at the Roma Tuscolana 3* hotel (or similar) in a standard room with breakfast included
-10 nights on the Norwegian Getaway cruise ship in an Interior Stateroom
-Premium beverage package including tips (Value of USD $2376 per cabin)
-4-meals specialty dining package with tips (Value of USD $274 per cabin)
-USD $100 onboard credit per cabin
-All taxes
Croatia is the newest bucket list item for savvy travelers
Fun Facts:
*  It is a country with over 125,000 years of history, and the site of many scenes in Game Of Thrones
*  Croatia has a long wine tradition, Zinfandel's father hailed from this country in fact
*  Croatia boasts 8 national and 11 natural parks, fresh water from all rivers, and a place where food in grown in a healthy and traditional manner
*  The Adriatic, which surrounds Croatia's coast and 1,200 islands, is one of the clearest seas in the world
*  It is an extremely safe destination
*  8 UNESCO locations
*  Awards abound…Zadar was voted the best European destination in 2015, while Zagreb was voted the best Christmas destination in 2015
*  Big inventions that shape our lives today came from Croatian inventors; pencil, neck tie, alternative current, and even the parachute
Croatia & Its Islands
Small Ship Cruising on the Adriatic Coast
From medieval architecture to ethereal waterfalls, coast along the sparkling Adriatic Sea and experience the best of Croatia. Begin your journey in Zagreb, the illustrious capital of Croatia. Stand in awe before the cascading waterfalls of Krka National Park. Enjoy a memorable 7-night cruise on the Adriatic Sea along Croatia's coast. Discover the ancient palace of Emperor Diocletian in Split. On Brac Island, take in the "Golden Cape" of Bol. Visit the island of Biševo, home to the mystical Blue Cave. Tour the Old City of Dubrovnik and walk along the picturesque cobblestone streets. See the country's immaculate beauty as you cruise its vibrant waters and step into its rich history.
12 Days/11 Nights    19 Meals: 10 Breakfasts, 6 Lunches, 3 Dinners
2020: April 28 $3999 May 26 $149, June 5, 9 $4249 July 3, 21, 31 $4349
2020: Oct 6 $4299 Oct 13 $4049 Oct 16 $4149
The Croatian Tour
11 Day Tour from Zagreb to Dubrovnik
Spectacular scenery, historical sights, and special experiences await you on this fantastic tour concentrating on Croatia. Along the way, you'll overnight in Zagreb, Opatija, Zadar, Split, and Dubrovnik in Croatia, and in Slovenia's capital Ljubljana.
With historical sights and UNESCO World Heritage Sites, you'll be thrilled: visit Dubrovnik's 15th-century Rector's Palace, built in gothic style with renaissance and baroque elements; the 4th-century Diocletian's Palace in Split, a well-preserved fortress; the majestic cathedral in Zagreb; the Amphitheater and Temple of Augustus in Pula; and the historical city of Trogir.
To see beautiful scenery, this Croatia tour will delight. You'll enjoy guided walking tours in Plitvice National Park, famous for its lakes, waterfalls, and forests, and in the pretty coastal city of Zadar. You'll experience the beauty of the Dalmatian Coast, with its dramatic limestone cliffs. You'll also visit the Postojna Cave, with its web of tunnels and stalactites, via mini-train
2020: April 19 $3059 April 26 $3113 May 3 $3185 May 10 $3212 May 17 $3256
May 24 $3293 May 31, Jun 7 $3302 June 14, 21 $3329 June 28 $3446
July 12, 26 $3401 Aug 9 $3374 Aug 23 $3320 Aug 30 $3329 Sept 6 $3428 Sept 13 $3529
Sept 20, 27 $3569 Oct 4 $3158 Oct 11 $3095
CROATIA EXPLORER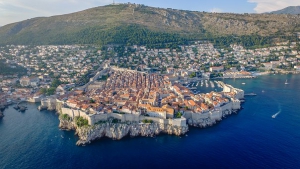 Zagreb, Split, Hvar, Dubrovnik
Croatia's stunning natural beauty and rich cultural history is on full display on this tailor-made journey down the Adriatic coast.
Arriving to Croatia's lively capital, Zagreb, you'll begin your journey toward the coast, with a visit en route of the country's majestic Plitvice Lakes National Park, where you can walk on wooden bridges through lush greenery surrounded by stunning aquamarine waters, and picturesque waterfalls. Arriving to Split, you'll meet with a private guide and explore the old city, home to the UNESCO World Heritage listed Diocletian's Palace. From Split, travel to the island of Hvar, from where you'll embark on a sea kayaking excursion into the waters of the Adriatic. Take to a renowned winery for a meal and wine tasting en route to Dubrovnik, where you'll explore the medieval old town with a private guide. Walk the iconic medieval city walls, meander charming lanes winding through the core, and imagine a time when life was this different. Welcome to Croatia.
8 days from $3,144 per person*
Walk the curved wooden pathways through Plitvice Lakes National Park.
Private guided walking tours of Split, and Dubrovnik with its medieval city walls.
Go sea kayaking on the Adriatic.
Sip regional wines on a wine tasting excursion.
Selection of premium accommodations throughout.
CRUISE THE DALMATION COAST BY LUXURY YACHT
Croatia
Dubrovnik • Hvar • Split • Trogir • Zadar • Rab
Choose from two handcrafted 8 day ocean cruises on one of two brand new luxury yachts!
Extend your Dalmatia cruise adventure with either 4 days in Zagreb or with a 9 day tour of Croatia
8 day cruises from $3,895 per person
Add: 4 days in Zagreb
From $830 per person
Extend your cruise around the Croatian archipelago with 4 days in Zagreb in a luxury hotel including 3 breakfasts, 1 dinner, and a guided city tour.
Add: 9 day Discover Croatia tour
From $3,250 per person
Delve further into local Croatian culture over 9 days including a WINE TASTING in Opatija, 6 EXCURSIONS, including a boat ride on Lake Bled, and an optional tour to Trakošćan Castle in Zagreb.
Fly free!   on 16 day itineraries      $495 on 8 day itineraries
Dalmatian Coast & Montenegro Sailing
15 days
Split to Dubrovnik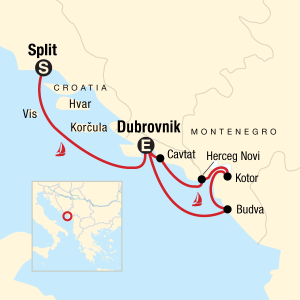 Stretch out your vacation days lounging on a yacht deck with this sailing trip that covers the Dalmatian coast from Split to Dubrovnik, along with plenty of time in Montenegro. Feel the warm sun on your face with the refreshing spray of seawater as you venture from coastal town to coastal town, stopping to swim, snorkel, or relax on beaches before exploring the rich history behind this storied Old World region. Local food and wine are in abundance, giving you delicious homegrown flavour that's difficult to forget. When it comes to Croatia, every experience is filled with memories that ignite all the senses.
June 13, 27, Sept 5, 10, 19 $2519
Book by May 30, 2019