Exotic Morocco, Saharan Tale & Portugal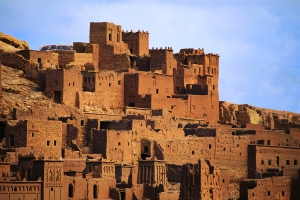 12/16 Days
Casablanca – Rabat – Chefchaouen – Fes-Beni Mellal – Marrakech – Ouarzazat – Zagora – Saharan dunes area – Ait Benaddhou – Lisbon (5 nights)
Travel through dramatic red dunes of the Sahara Desert in a camel convoy and enjoy a listen to Bedouin tales
Take a Horse carriage at sunset to travel through Marrakech's lively medina and join the nightly carnival of fortune-tellers, dancers and medicine men in UNESCO Jemaa el-Fna square
Enjoy the fairy-tale land of blue in Chefchaouen
In Fes, feel like you've travelled back to the Middle Ages in the labyrinthine medina
Go behind the scenes of Game of Thrones and Gladiator in Ait Benhaddou-fortified red city and now it's a film-maker's heaven
Step to Majorelle Garden and Yves Saint Laurent Museum and explore real Morocco Blue and red with your own eyes
Village visit of Ait Atta Berber tribe to better understand the culture and tradition of an indigenous population who have stood the test of time
Tour Lisbon's impressive Jeronimos Monastery and the treasured 16th century Belem Tower, designated UNESCO World Heritage Sites (16 Days)
Complete Relaxing in Portugal beach resort for 3 days (16 Days)
13 day tour:
2020: Mar 21 $3199 April 4, 15, Oct 24 $3399 May 10, 24, Sept 9, 26, Oct 10  $3499 Nov 5 $3299 Nov 19 $3199
16 day tour:
2020: Mar 21 $3999 April 4 $4199  April 15, Oct 24  $4299  May 10, 24, Sept 9, 26, Oct 10  $4399 Nov 5 $4199 Nov 19 $3999
Prices are per person based on twin share accommodation with return airfare from Toronto.
 Add on airfare from other cities: Vancouver, Calgary, Edmonton, Victoria from $300, Saskatoon, Regina, Winnipeg, Halifax, St.John from $400, Ottawa, Montreal, Quebec City from $300
Egypt & Jordan
13 Nights / 15 Days
2020:
January: 18, , February: 01 & 15, March: 07 & 21, April: 04 & 18, May: 02 & 16
September: 19, October: 03, 17 & 31, November: 14 & 28
Package includes:
-International flights between Canada to Amman, Amman to Cairo and Cairo to Canada
-Domestic flights between Luxor and Cairo
-Greeting and all transfers by AC vehicles during the tours
-2 nights in Amman at the Arena Space 4* hotel (or similar) in a standard room
-2 nights in Petra at the P Quattro Relax 4* hotel (or similar) in a standard room
-1 night in the region of the Dead Sea at Grand East 4* hotel (or similar) in a standard room
-2 nights in Cairo at Le Meridien Heliopolis 5* hotel (or similar) in a standard room
-1 night onboard the sleeping train between Cairo and Aswan, in a first-class cabin
-4 nights onboard of the Carnival 5* Nile Cruise (or similar cruise)
-1 night in Luxor at Mercure Luxor 4* hotel (or similar) in a standard room
-All breakfasts + 5 Lunches + 13 Dinners (31 Meals)
-English-speaking guides during the tours in Jordan and Egypt
-Entrance fees to all the mentioned sites in Jordan as per the itinerary
-Horse riding (Approx. 300m) in Petra till the Siq
-Safari 4X4 Jeep Ride in Wadi Rum Desert for 2 hours
-Visits in Egypt: Full day tour of the Pyramids, the Sphinx, and the Egyptian Museum; Karnak Temple, Valley of Kings, Temple of Queen
Hatshepsut, Two Colossi of Memnon, Temple of Horus, Temple of Sobek, High Dam, the unfinished Obelisk and the Philae Temple in
Aswan
-Visa in Jordan
-All taxes, fees
MONTREAL from  $4379
TORONTO from  $4179
OTTAWA from $4579
EDMONTON from $4579
CALGARY from $4579
VANCOUVER from $4579
HALIFAX from $4579
Exotic Morocco, Saharan Tale & Portugal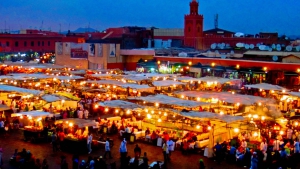 12 or 16 Days
Casablanca – Rabat – Chefchaouen – Fes-Beni Mellal – Marrakech – Ouarzazat – Zagora – Saharan dunes area – Ait Benaddhou – Lisbon (5 nights)
• Travel through dramatic red dunes of the Sahara Desert in a camel convoy and enjoy a listen to Bedouin tales
• Take a Horse carriage at sunset to travel through Marrakech's lively medina and join the nightly carnival of fortune-tellers, dancers and medicine men in UNESCO Jemaa el-Fna square
• Enjoy the fairy-tale land of blue in Chefchaouen
• In Fes, feel like you've travelled back to the Middle Ages in the labyrinthine medina
• Go behind the scenes of Game of Thrones and Gladiator in Ait Benhaddou-fortified red city and now it's a film-maker's heaven
• Step to Majorelle Garden and Yves Saint Laurent Museum and explore real Morocco Blue and red with your own eyes
• Village visit of Ait Atta Berber tribe to better understand the culture and tradition of an indigenous population who have stood the test of time
• Tour Lisbon's impressive Jeronimos Monastery and the treasured 16th century Belem Tower, designated UNESCO World Heritage Sites (16 Day package)
• Complete Relaxing in Portugal beach resort for 3 days (16 Day package)
• Prices are per person based on twin share accommodation
2020:
March 21, Nov 19 $3199 (12 nts) $3999 (16 nts)
April 1, 15 $3399 (12 nts) $4199 (16 nts)
May 10, 24, Sept 12, 26, Oct 10 $3499 (12 nts) $4399 (16nts)
Oct 24 $3399 $3399 (12 nts)  $4299 (16 nts)
Nov 5 $3299 (12 nts) $4199 (16 nts)
• Add on airfare from other cities: Vancouver, Calgary, Edmonton, Victoria from $300, Saskatoon, Regina, Winnipeg, Halifax, St.John from $400, Ottawa, Montreal, Quebec City from $300
Jordan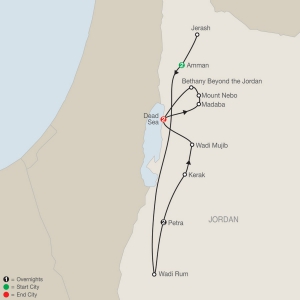 7 Day Tour from Amman to Dead Sea
Your off-season guided tour of Jordan begins in the capital city of Amman and concludes at the Dead Sea—one of the lowest spots on Earth. Marvel at Jordan's many amazing sites, but without the crowds or prices of the busy season! Visit Amman—one of the world's oldest continuously inhabited cities with a history spanning nine millennia—to see the Roman amphitheater and Jerash, a well-preserved Greco-Roman city buried for centuries under desert sands. Enjoy a guided sightseeing of the UNESCO World Heritage Site of Petra—one of the New 7 Wonders of the World. Walk down the Siq, a narrow gorge with spectacular colors between its high cliffs, and stand in awe of the famed Treasury site, carved out of the sheer sandstone cliff in the 1st century BC. Sip tea in a real Bedouin tent—a tradition of the semi-nomadic Bedouin people still inhabiting this region.
2020: Jan 5, 12, 19, 22 Feb 2, 9 $999
Treasures of Egypt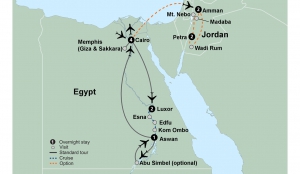 The mysteries and treasures of Egypt unfold before you on your journey along the intriguing Nile River. Begin by spending time at the awe-inspiring Pyramids of Giza – one of the Seven Ancient Wonders of the World. Stand in awe at the iconic Great Sphinx. Travel to ancient Memphis, with its nearly 40-foot statue of Ramses II, and Sakkara. Embark on a leisurely paced 4-night cruise on the Nile, the world's longest river. See Luxor's impressive Temples of Karnak. On the West Bank of the Nile in Luxor, uncover countless ancient treasures including the Valley of the Kings, the Temple of Queen Hatshepsut at Deir El Bahari, and the Colossi of Memnon. Partake in a special evening, and dress up and join the fun during a traditional galabeya party. Choose to sail to the lush oasis of Kitchener Island aboard a felucca (wooden sail boat) or experience Nubian culture past and present during a visit to a fascinating museum. Egypt's fascinating story awaits to be discovered.
12 days/11 nights
22 meals
Sept 25, Oct 2, 2019  Nov 18, Dec 2, 30, 2020 $2899
Nov 6, 20, 2019 $2949
May 6, 2020 $2849
*international air not included
Book with deposit by August 31, 2019
Israel: Pilgrimage to the Holy Land

8 days/7 nights 15 meals
This is an inspirational journey that will strengthen your faith and bring you closer to God. From Bethlehem and Nazareth to Cana, the site of the First Miracle, find new understanding of the life of Jesus. Follow in His footsteps along the Via Dolorosa as you walk the path of the Stations of the Cross. Visit the Church of the Pater Noster, built on the traditional site where Jesus taught. Explore Ein Karem, birthplace of St. John the Baptist. An extensive Jerusalem tour features the Mount of Olives, the Garden of Gethsemane and the Western Wall. This life-changing tour also includes daily worship in historical sites such as the Church of the eatitudes, the Church of the Holy Sepulchre, St. John the Baptist and the Church of the Nativity.
2020:  June 10, Sept 2 $2649
Jan 27 $2549 April 18, May 4, 18, 20 $2999
Jun 17, July 22, Sept 7, 9  $2849
Oct 17, 18, 21, 25, 26 $3099
Israel and the Holy Land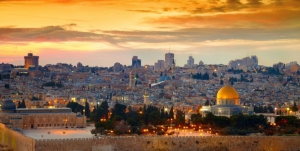 2020:
Jan 15 , 22 & 29
Feb 05 , 12 & 19
Toronto: Starting from $2898
Montreal: Starting from $2998
Edmonton, Ottawa, Calgary, Vancouver & Halifax: Starting from $3079
Package Includes:
Round-trip international flights Canada / Tel Aviv with good itineraries
Greeting and round-trip transfers between the airports and the hotels in Tel Aviv & Jerusalem
1 night in Tel Aviv at the Olympia 3* hotel (or similar) in a standard room
2 nights in Tiberias at the Restal 3* hotel (or similar) in a standard room
4 nights in Jerusalem at the Rimonim Shalom 3* hotel (or similar) in a standard room
All breakfasts
Sightseeing in a modern air-conditioned motor-coach
Service of a Government licensed guide on all touring days
Entrance fees to places of interest while touring
All taxes and fees
Israel & Jordan
11 Days • 10 Nights • Guaranteed Departures
Discover the land of Israel with its history, religion, and outstanding scenery.
Visit the ancient city of Jerusalem, float on the Dead Sea, or enjoy the nightlife of Tel Aviv.
Cross over to Jordan to visit the amazing Petra, one of the Seven Wonders of the World.
Amman, Jerash and mystical Mount Nebo are not to be missed!
FROM $3299 per person in double occupancy, land only.
Return airport transfers English speaking local guides Accommodation in double occupancy
Daily breakfast Visits and excursions in a shared vehicle
GUARANTEED WITH A MINIMUM OF 2 PARTICIPANTS WITH SUNDAY DEPARTURES
FROM NOW TO FEBRUARY 16TH, 2020
Treasures of Egypt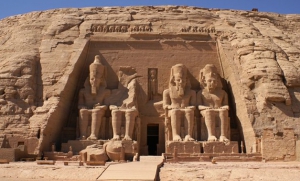 13 Days 12 Nights
Meals 22 Meals: 11 Breakfasts, 4 Lunches, 7 Dinners
The mysteries and treasures of Egypt unfold before you on your journey along the intriguing Nile River. Begin by spending time at the awe-inspiring Pyramids of Giza – one of the Seven Ancient Wonders of the World. Stand in awe at the iconic Great Sphinx. Travel to ancient Memphis, with its nearly 40-foot statue of Ramses II, and Sakkara. Embark on a leisurely paced 4-night cruise on the Nile, the world's longest river. See Luxor's impressive Temples of Karnak. On the West Bank of the Nile in Luxor, uncover countless ancient treasures including the Valley of the Kings, the Temple of Queen Hatshepsut at Deir El Bahari, and the Colossi of Memnon. Partake in a special evening, and dress up and join the fun during a traditional galabeya party. Choose to sail to the lush oasis of Kitchener Island aboard a felucca (wooden sail boat) or experience Nubian culture past and present during a visit to a fascinating museum. Egypt's fascinating story awaits to be discovered.
2020:   Jan 8, 15, 22, 29 Feb 12, 19 , March 4, 25 $3049
Egypt, Nile River & Jordan
Discover ancient Egypt from its plentiful monuments, archaeological sites and recovered artefacts, but this is your opportunity to gain an understanding of what life was like for this early civilisation. Not forgetting just how important the Nile River was to the societies that lined its banks.
Enjoy this incredible journey onboard the contemporary and luxurious MS Hamees river ship will be your home during your four-night Nile River cruise from Luxor to Aswan. Elegant and thoughtful interior design plays host to spacious cabins, complete with private bathroom and excellent amenities, including a lounge bar and sun deck.
Fly Free on the 15 day itinerary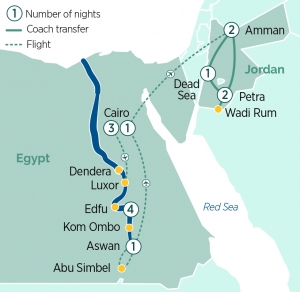 4 nights accommodation on-board MS Hamees
Cruise Director services throughout your cruise
28 meals including 14 breakfasts, 5 lunches, 9 dinners
2 drinks per guest with lunch and dinner on-board
17 included excursions with complimentary bottled water
5 activities, including home-hosted dinners in both Cairo and Amman
On-board entertainment
Tea & coffee facilities in all cabins
Airport transfers to and from your ship and hotels
Port taxes and charges
All tipping and gratuities
FLY FREE!
2020: Feb 7, May 1 $8150 March 6 $8185 April 3 $8250 cdn
Inclusions:
Visit to the Pyramids & Great Sphinx
Visit to the Egyptian Museum
Visit to the Khan-El-Khalili Market
Visit to the Monument of Queen Hatshepsut & Statues of Colossi of Memnon
Tour of vast open-air temple of Karnak
Cruise to Dendera & visit to Hathor Temple
Visit to Luxor Temple
Visit to the Esna Temple
Kom Ombo Temple
Visit to the Osiris Temple Complex of Philae
Felucca cruise on the Nile
Visit to Temples of Ramses II & Nefertari
City Tour of Amman
Visit to Mount Nebo
City Tour of Petra
Visit to Wadi Rum
Home-Hosted Cooking Demonstration & Dinner with Local Family
Nubian show on board of cruise
Visit to Nubian Village to meet Local School Children
Home-hosted Dinner with a Local Family in Amman
Walk Through a Local Market with Lunch & visit to the Ruins of Jerash
Walk Through a Local Market in Amman
10 day Egypt trip without the Jordan
2019: Nov 1 $5315  return airfare for $295 per
2020: Feb 7 $5445 March 6 $5480 April 3 $5545 May 4 $5445 plus return airfare for $295