Paris
Paris, often called the city of lights, is the world's top destination for tourists, and it holds the title for good reason. The Eiffel Tower is the city's most-visited attraction, but Paris is also home to such architectural and aesthetic wonders as the Arc de Triomphe, the Louvre Museum, and the Notre-Dame Cathedral. Though French is the country's official language, Anglophones can often get by in tourist-friendly areas with only a few French phrases. A city of art, romance, and culture, Paris is guaranteed to provide an unforgettable adventure.
Call us to book your romantic Paris holiday.
---
EUROPEAN ESCAPE WITH LONDON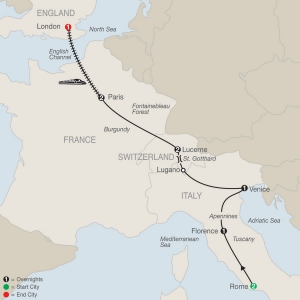 10 DAY tour from Rome to London
Escape to Europe's most popular destinations with a guided European vacation during the low-season and bypass the tourist crowds and the high-season prices! Rome, Florence, Venice, Lucerne, Paris, and London—these exciting and vibrant cities await you on this thrilling European tour. Guided sightseeing tours will highlight the must-see attractions, including the Vatican Museums with the Sistine Chapel in Rome; the Academy of Fine Arts in Florence, where you will see Michelangelo's famous David statue; the Chapel Bridge in Lucerne, dating back to the 14th century; and a Seine cruise in Paris, where you'll want your camera ready to capture the magnificent views of Notre Dame Cathedral and the Eiffel Tower.
2020: Nov 8, 15, 29 $2269 Dec 6 $2149
Prices are per person in single, double or triple room occupancy.
The single supplement waiver and single room capacity is limited, please call for availability.
BURGUNDY RIVER CRUISE ADVENTURE
8 days, Dijon to Dijon
Blessed with some of the most gorgeous countryside in Europe, if not the world (not to mention perhaps the best wine around), Burgundy is a place everyone should explore at least once. And the best way to do it is from the deck of an ambling river barge. Visit small villages and first-rate wineries, bike through forests and vineyards on a provided bicycle, and soak up the glorious sunshine, all with the help of a charming little hotel that goes where you go. You won't get a better glimpse of Burgundy's pastoral pleasures than this.
2020: April 3, 10 $1380 April 17 $2069
May 15, 22 $2404
June 5 $3144 June 12 $2219 June 26 $1850
July 3 $2069 July 20, 24, 31, Aug 7 $2414
July 17 $1724
Book before Feb 29, 2020
GREAT CANADIAN WAR MEMORIAL TOUR
10 DAY TOUR FROM PARIS TO PARIS
Designed by Canadians for Canadians, this special tour pays tribute to all who have served their country in the Great War and World War II. Take in the museums, memorials and special sites throughout France and Belgium that commemorate the contribution of Canadian soldiers during these two wars, including: the impressive and inspiring Canadian National Vimy Memorial at Vimy Ridge, the Canadian Cemeteries in Bény-sur-Mer and Dieppe, as well as the Newfoundland Memorial Park at Beaumont Hamel. Other destinations visited include the Landing Beaches of Normandy, the Juno Beach Memorial Centre & Park, Amiens and Ypres in Belgium.
Cost includes transportation by WiFi-equipped motorcoach, services of a tour director, accommodation, daily breakfasts, four dinners and admission to all sites.
2020:
May 16 $3541 June 3 $4180 Aug 15 $3523 Sept 5 $3569 Oct 10 $3504
Based on double occupancy
WWII D-DAY, LANDING BEACHES AND BATTLE OF NORMANDY
5 DAY TOUR FROM PARIS TO PARIS
On June 6, 1944, otherwise known as D-Day, Allied troops landed on the beaches of Normandy and gained a foothold in the fight against Nazi Germany. On this WWII D-Day Landing Beaches & Battle of Normandy tour visit some of the beaches where the battles took place as well as some of the museums and cemeteries that are a tribute to the Allied forces. Your tour begins and ends in Paris with two overnights in Caen, where you'll visit the Memorial Museum for Peace.
The first American troops landed on Utah Beach; here, visit the memorials and the museum, which chronicles the history of the landing. Next is Pointe du Hoc, where US Army Rangers scaled its cliffs. Omaha Beach is where the highest number of casualties occurred. Here, stop at the nearby American Military Cemetery & Memorial.
On this tour, see the German artillery bunkers and visit the D-Day Museum, the first museum built to commemorate D-Day. In Arromanches, see the remains of the Mulberry Harbor in the bay, a temporary harbor built to quickly offload men and cargo, and the Arromanches 360 Circular Cinema, which uses archived images to tell the story of the Battle of Normandy. In Sainte-Mère-Église, visit the Airborne Museum, dedicated to the American paratroopers. You'll visit the Canadian Cemetery and at the Juno Beach Center, the exhibition, the bunker, and the Memorial to the Canadians. Finally, you'll visit the Memorial Pegasus Museum, dedicated to the 6th British Airborne Division.
2020:
May 1, Sept 14 $2024
May 15, 29, June 12 $2061
June 26 $2172
July 24, Aug 7 $1867
April 17, July 10, Aug 21, Sept 18 $1960
Prices are per person, based on double room occupancy.
Single room supplement: $436-$752
No triple room reduction.
Spain, Italy & France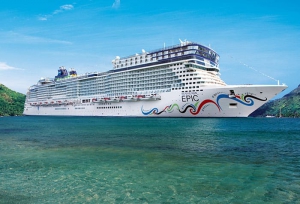 Book by December 09 and save $100 per person off the rates below!
The Norwegian Epic inaugurated a new era in Freestyle Cruising, revolutionizing the industry considerably. You will discover a whole world aboard the Norwegian Epic: the most modern and innovative boat you have ever imagined. Stay in exceptional cabins, enjoy a wide range of dining options participate in original and surprising activities, though for both singles and families. Onboard you will find atmospheric cafes and bars, a giant water park for family fun and our modern Spa Staterooms to enjoy the luxury of a Spa in front of your cabin. In short, the scenery is assured!
ALL-INCLUSIVE Cruise Package including international flights, greeting and transfers, 1-night pre-cruise with breakfast included in Barcelona, 7 nights on the Norwegian Epic cruise ship including the premium beverage package with tips, the 3-meals specialty dining package with tips and a USD $100 onboard credit!
8 nights / 10 Days
October 23, 2020 Interior Stateroom
Montreal & Toronto: from $2698
Ottawa, Edmonton Calgary, Vancouver & Halifax: from $3198
Upgrade package to Balcony Stateroom: + $698 p.p.
May 01, 08, 22, Sept 11, 25, Oct 9, 2020 Interior Stateroom
Montreal & Toronto: from $2998
Ottawa, Edmonton Calgary, Vancouver & Halifax: from $3498
Upgrade package to Balcony Stateroom: + $798 p.p.
June 05, August 21, 2020 Interior Stateroom
Montreal & Toronto: from $3198
Ottawa, Edmonton Calgary, Vancouver & Halifax: from $3698
Upgrade package to Balcony Stateroom: + $798 p.p.
June 19, July 17, 2020 Interior stateroom
Montreal & Toronto: from $3498
Ottawa, Edmonton Calgary, Vancouver & Halifax: from $3898
Upgrade package to Balcony Stateroom: + $698 p.p.
*BONUS for Balcony Stateroom: USD $50 off on shore excursions per cabin per port and 250 minutes WI-FI package on board!
Package includes:
-Round-trip international flights between Canada / Barcelona with good itineraries
-Transfers between the airport, the hotel, and the port in Barcelona
-1-night pre-cruise in Barcelona at the HCC Taber 3* hotel  with breakfast included
-7 nights on the Norwegian Epic cruise ship in an Interior Stateroom
-Premium beverage package including tips (Value of USD $1663 per cabin)
-3-meals specialty dining package with tips (Value of USD $238 per cabin)
-USD $100 onboard credit per cabin
-All taxes
Nice to Lyon Explorer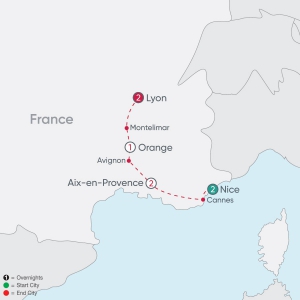 8 Day Tour from Nice to Lyon
If you've imagined yourself in the shimmering French Riviera, the gracious fields of Provence, and the gourmet flavors of Lyon, say "Oui" to this budget vacation through southern France—ready for you to enjoy as you please. Arrive in Nice for a stroll along the Promenade des Anglais. Relax on the beach or find the perfect bowl of bouillabaisse. Maybe visit the birthplace of painter Chagall in St. Paul de Vence, before heading for the glittering city of Cannes. In the lovely Aix-en-Provence, discover a chic university city of moss-covered fountains, both old-world elegance and youthful vivacity flow. Visit its trendy shops, hip cafes, and cool open-air markets, and you'll see why it's been dubbed the "21st arrondissement of Paris." Explore the medieval walls surrounding the Palace of the Popes in Avignon, and indulge in French favourites in a sidewalk café. Travel to see the sights awaiting in historic Orange, including the Arc de Triomphe, Ancient Roman triumphal arch, and the Théâtre Antique, one of only three standing Roman theatres in the world. On the way to Montélimar, see the aromatic lavender fields and, in the town, the café-lined promenades in France's "gateway to Provence." Sample its famously delicious nougat made of almonds and honey.
2020:
May 10, Oct 11 $1189
May 17, June 14, 21, July 5, 19, Sept 13, 20, 27, Oct 4, $1279
French Escape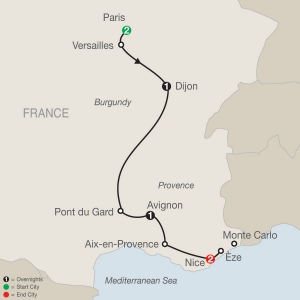 7 Day Tour from Paris to Nice 
A sample of everything France has to offer with overnights in Paris, Dijon, Avignon, and Nice. Highlights of this French tour include guided sightseeing of Paris with a Seine cruise to enjoy spectacular views of Notre Dame Cathedral and the Eiffel Tower.
A visit to the remarkable Palace and Gardens of Versailles is sure to delight. The principal residence of the French kings from the time of Louis XIV to Louis XVI, it is nothing short of spectacular. Other tour highlights are a stop at Pont du Gard to admire the largest remaining Roman aqueduct in France; walking tours in Avignon, Aix-en-Provence, and Nice; and a special welcome dinner in Paris, as well as a farewell dinner at a local restaurant in Èze to try some local specialties. These are just some of the many highlights included on this wonderful escorted tour of France
Nov 10, 17, 24, 2019 March 1, 8, 2020 $1519
Dec 8, 2019 Feb 9, 16, 2020 $1389
Prices are per person in single, double or triple room occupancy.
London and Paris Escape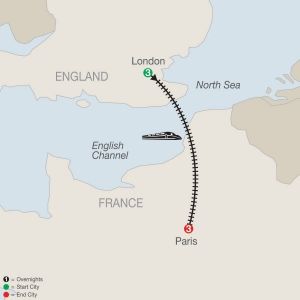 7 days
Your escorted vacation in London begins with a welcome dinner and a narrated nighttime cruise on the Thames River to admire illuminated Tower Bridge, St. Paul's Cathedral, and the Houses of Parliament. You'll spend three nights in London to see the iconic sites of this historic city—from Big Ben to Buckingham Palace, and more. You'll also ride the London Eye for unmatched views of the city and beyond from this giant observation wheel. Enjoy ample free time to explore London's many places of interest on your own as well, before boarding a high-speed train to Paris.  Enjoy a 3-night stay in Paris, with included sightseeing featuring the Arc de Triomphe, Concorde Square, Champs-Élysées, Notre Dame, and a Seine cruise.
Nov 17, 24, 2019 March 1, 8, 15, 2020 $1579
Dec 1, 8, 2019 Feb 2, 9, 16, 23, 2020 $1519
Prices are per person in single, double, or triple room occupancy.