Peru
Peru is a country in South America that's home to a section of Amazon rainforest and Machu Picchu, an ancient Incan city high in the Andes mountains. The region around Machu Picchu, including the Sacred Valley, Inca Trail and colonial city of Cusco, is rich in archaeological sites. On Peru's arid Pacific coast is Lima, the capital, with a preserved colonial center and important collections of pre-Columbian art. There are over 3,000 different varieties of Potato grown in Peru. Spanish is not the only language spoken in Peru. Machu Picchu is of the New Seven Wonders of the World. The Largest Flying Bird on Earth can be found in Peru, The Giant Andean Condor.
INCA HEARTLAND
21 days, Lima to La Paz
Experience the archaeological highlights and the cultural treasures of the Andean highlands, then uncover the secrets of the mysterious Nazca Lines and Peru's desert coast on this incredible three-week adventure. Embrace Incan culture's past and present in Cusco and get a taste of Bolivian culture in La Paz. Travel by boat on Lake Titicaca and trek to the stunning ruins of Machu Picchu. As the Inca Trail's largest operator, we run our own treks, which ensures quality food, service, and equipment. Join us for an immersive experience that few travellers get to know.
on Sale! 2020: April 4 $2639 June 6 $2991 Book before Feb 29, 2020
April 25, Sept 5, 12, 19, Oct 10, 24, Nov 21, Dec 12 $3299
July 4, 18 Aug 15 $3519
PERU & BOLIVIA
Explore the world of the ancient Incas on our popular 12-day trips to Peru and Bolivia and witness the impact of the Spanish conquistadors on cultures from out of the mists of history… from Pizarro's colonial Lima and Cusco, to the Sacred Valley of the Incas and Machu Picchu to Lake Titicaca to La Paz. Discover Inca strongholds and sacred sites surrounded by the Andes… admire the skill and craftsmanship of ancient artisans whose true medium was gold… learn the secrets of the Sacred Valley and Machu Picchu, and have your journey blessed by a local shaman. Attend a folkloric performance based on Inca mythology… take a boat to meet locals living like their ancestors did on floating reed islands on Lake Titicaca… see famous Peruvian Paso horses demonstrate their skills… and discover the cultural and architectural diversity of La Paz, highest capital city on Earth.
Empire of the Incas: Peru & Bolivia
12-Days Now $8,590 CAD
per person double
Departures March 25, April 22, May 20,
June 17, July 15, Sept 23, Oct 21, 2020
✔ Accommodations for 11-Nights
✔ 2 on-tour air flights
✔ 28 meals (11 breakfasts, 8 lunches, 9 dinners)
✔ Gratuities to local guides
✔ Taxes, service charges, admission fees and porterage
GALÁPAGOS CENTRAL ISLANDS & INCA DISCOVERY
14 days, Quito to Cusco
From the unique wildlife of the Galápagos to the towering peaks of Peru, discover two of South America's iconic highlights in one comprehensive adventure — explore the Galápagos aboard the Xavier III before flying into the Andean highlands. As one of the larger tour operators in the Galápagos, our exclusively operated fleet of yachts offers great value and in Peru we run our own treks, ensuring the fair treatment of our porters and the quality of food and equipment as you follow the Inca Trail to Machu Picchu. Experience the intense variety and striking beauty of two of South America's most dramatic regions.
2020: Sept 22 Oct 20 $5599
Oct 6 $5849 Nov 3, 17, Dec 1 $6039
Dec 15, 29 $6219
ABSOLUTE PERU & GALÁPAGOS CENTRAL ISLANDS
27 days, Lima to Quito
Explore Peru's southern coast, its Incan Highlands and the Galápagos Islands. From the soaring heights of the Inca Trail to the steamy jungle stay at the exclusive G Lodge Amazon, this epic journey includes an all-encompassing tour of Peru and four nights exploring the Galápagos. As one of the biggest tour operators in the region, our exclusive fleet of yachts offers great value, and in Peru, we run our own treks, ensuring the fair treatment of our porters and the quality of food and equipment as you follow the Inca Trail to majestic Machu Picchu.
2020:
April 15, July 22, Nov 11, 25, Dec 9 $8449
August 5 $8649
Aug 19, Sept 2, 16, 30, Oct 28 $8099
Oct 14 $8299
EXPLORE MACHU PICCHU & THE AMAZON RIVER

11 DAYS, LIMA TO LIMA
Combine two amazing adventures in one unforgettable 11-day trip that takes in the wonder of Machu Picchu and the mystical Amazon River. Ride the scenic train to the famous Inca ruins, then venture deep into the rainforest on a riverboat, spotting wildlife along the way. From the pinnacle of a fascinating civilization to the depths of pristine wilderness, this journey will ignite your passion for adventure. National Geographic Journey!
On sale! June 21, July 5 $3359 Book before Feb 29, 2020
July 19, Aug 2, 16, 30 $4479
Sept 13, Oct 11, 25 $4369
Nov 5, 22 $4199
Dec 20 $4169
AMAZON RIVERBOAT ADVENTURE

7 days, Lima to Lima
Hop aboard a riverboat and experience the Amazon in style. Led by an Amazon Reserve naturalist guide, your cruise will include daily excursions by motorized skiff designed to reveal the exotic wildlife that calls the rainforest home — with any luck you'll spot sloths, toucans, or pink dolphins! And, with plenty of time for exploration in Pacaya–Samiria National Reserve, you'll have the chance to experience the jungle up close. The cuisine on-board is regional and provides a unique and delicious window into local culture. Gain a rare glimpse of how life "on the river" is lived and experience the magic of the Amazon on this once-in-a-lifetime riverboat adventure.
2020: April 6, May 18 $2123
April 20 $1415 May 4 $1869
June 1 $1574 June 29, July 13 $1912
Book by Feb 29, 2020
July 28, Aug 10, 24 $2249
Sept 7, Oct 19, Nov 2, 16, 30 $2359
Sept 21 $2199
Dec 28 $2099
WELLNESS PERU – MACHU PICCHU AND THE SACRED VALLEY
7 days, Cusco to Cusco
Feel energy flow through your body with every step taken over the hallowed grounds of Peru. Your seven-day journey begins in the aptly named Sacred Valley with a taste of local food, before a stand-up paddleboard takes you across pristine waters surrounded by towering Andean peaks. Each day has the chance for new discoveries with available yoga sessions, a hot springs visit, and the option to do the 1-day Inca Trail Hike. Finally, you can bask in the awe-inspiring beauty of Machu Picchu through an intentionally paced tour. As you absorb the mysterious power of these ancient ruins, you'll head home with a renewed lift in your step.
• Arrival transfer
• Stand-up paddleboarding at Piuray Lagoon
• Incan Welcome Ceremony
• Yoga classes in the Sacred Valley
• Lares hike and hot springs visit
• Machu Picchu guided tour
• Free time for meditation and relaxation
• All transport between destinations and to/from included activities
• Hotels (6 nights)
• 6 breakfasts, 2 lunches
2020: On sale! April 19 $1599 May 10, June 7 $1699
Book by Feb 29, 2020
Mar 15, July 12, Aug 16, Sept 13, Oct 11 $1999
AMAZON TO THE ANDES
12 days, Lima to Lima
This adventure offers up an intriguing combination of beauty and contrasts in scenery, wildlife, and cultures, whether you're scanning the canopy for wildlife from the comfort of our intimate and exclusive G Lodge Amazon or climbing the ancient trail of the Incas to Machu Picchu, situated in the heavens of the Americas. Because we run our own treks, we can ensure the fair treatment of our porters and the quality of food and equipment which leaves you free to enjoy the beauty of the region.
2020:
On sale! April 15,16, 17, 19 $2479 May 22, 29 $2702
Book before Feb 29, 2020
2020: March, Sept, Oct, Dec $3099
May, June, July Aug $3179
Nov $2999
2021: Jan, Feb, Nov $2999
March April Sept, Oct Dec $3099
May, June, July, August $3179
The Lares Trek with One-Day Inca Trail
8 days, Cusco to Cusco
Embark on an incredible eight-day exploration through Peru's Lares trek with a taste of the iconic Inca Trail. Take a guided tour through the Sacred Valley, stopping at a women's weaving co-op before beginning your hike. The Lares Trek might not be as touristy but it's no less breathtaking with scenic views of lagoons, the snow-capped Chicon Mountain, Andean flora, and opportunities to meet local Quechua people along the way. A guided tour through Machu Picchu at sunrise, the best time to see the Lost City of the Incas, is a suitably stunning way to conclude your adventure.
2020:
April 11, May 2, 4, 9, 16, 18, 23, 25 $1383
June 6, 8, 13, 15, 20, 22, 27, 29, July 4, 6 $1504
Book before Feb 29, 2020
Explore Northern Peru & Machu Picchu
16 days, Lima to Lima
Experience the many splendours of Peru's ancient past on this 16-day tour that takes you to famed sites and hidden gems. In northern Peru, discover traces of pre-Inca cultures, including the mountaintop fortified city of Kuelap, home to the Chachapoyas "Cloud Warriors;" and the eroded adobe ruins of Chan Chan. Round out your exploration of Peru's fascinating past with an early morning guided visit to magnificent Machu Picchu.2020:
2020:
$4351 June 20
Book by Feb 29, 2020
Peru Multisport
15 days Lima to Lima
How do you improve a trip that already includes the Sacred Valley, the Inca Trail, and Lake Titicaca? Throw in some bikes, a few kayaks, and loads of high-energy thrills, that's how! Peru Multisport connects immersive cultural interaction and classic Peruvian landmarks with challenging physical activities tailored specifically for adrenaline junkies and fitness freaks. Climb and bike your way from small villages to astounding monuments, then explore Lake Titicaca from a kayak; a perspective few visitors ever get the chance to see. Need more? Consult your CEO; they'll keep your zest for adventure satisfied.
Soak in the views on a bike in the Sacred Valley
Climb the Inca Trail to Machu Picchu
Kayak Lake Titicaca
Mingle with the locals and learn about traditional life
Savour the Altiplano scenery
Devour seafood in Lima
2020:
April 4, 11, 25 $2399
May 2,  23 $2549
June 20, 27  $2600
Book by Feb 29, 2020
INCA HEARTLAND & BOLIVIA DISCOVERY
31 days, Lima to La Paz
On this 31-day tour of Peru and Bolivia, explore a side of South America that many visit, but few really get to know. Begin with Peru's desert coast, where the Nazca lines have mystified travellers for eons. Then trek the Andean highlands, awash in rich Incan culture (both past and present), before experiencing the iconic Machu Picchu, where we are the Inca Trail's largest operator. Reach even greater heights in Bolivia, where the capital of La Paz is one of the highest cities in the world. South of here, the Salar de Uyuni welcome travellers eager to explore one the planet's starkest, and most mesmorizing, geological formations. On this tour, feel closer to the two countries' history, nature, and culture in a way that few ever get to experience.
2020: Jan 11, Mar 21, April 4, 25, Sept 5, 12, 19, Oct 10, 24 Nov 21 $4999
May 23, June 6,  July 4, 18 Aug 1, 15 $5229
Inca Discovery
8 days
Lima to Cusco
Perfect for those looking to experience the region's archaeological and cultural treasures in a short amount of time, this adventure includes a four-day trek along the Inca Trail. This is one of the world's best-known hikes and will reward those willing to break a sweat with a stunning combination of mountainscapes, cloud forests, and jungles. We run our own treks, which ensures the fair treatment of our porters and quality equipment.
8 days
2020:

April  15 16, 17,  19,  May 29  $1359
Book by Feb 29, 2020
ACTIVE ECUADOR & PERU
16 days, Quito to Cusco
Speed is the watchword for this high-adrenaline active tour around Ecuador and Peru. Across sixteen action-packed days, you'll bike near Cotopaxi (an Andean stratovolcano), raft down rushing rivers, trek the iconic Inca Trail, and much, much more. Best of all, you'll always travel with an experienced and passionate CEO who knows the quickest and most scenic routes to wherever you're headed. Remember, you're here for a great time, not a long time; slather on that sunscreen, strap on your helmet, and hit the road/trail/surf!
2020: March 7, April 4, May 9, 23 Sept 5, 19 Oct 3, 24 Dec 19 $3229
June 6, 20 July 11, 25 August 8, 22 $3359
Nov 14, 28 $3099

 Peru and Bolivia

Machu Picchu to the Salt Flats
16 days, Lima to La Paz
National Geographic Tour:
Experience the awe-inspiring wonders of Bolivia and Peru. Learn about Peru's storied past in the former Inca capital of Cusco, and venture into the heart of the Amazon jungle. Hike the Inca Trail—or catch the scenic train—to the endlessly fascinating Machu Picchu; then travel to Bolivia to see the striking Salar de Uyuni and colonial cities surrounded by soaring Andean peaks.
2020:
Mar 23 $4999
May 25, Sept 26, Oct 17, Nov 7, 28 $5169
June 13, July 4, 25 Aug 15, Sept 5, Dec 19 $5459
Fascinating Peru & the Amazon with Machu Pichu
Lima – Puerto Maldonado – Amazon Jungle –  Cusco –  Sacred Valley – Moray – Saqsaywaman Ruins – Cusco
11 Days Tour plus air from Canadian cities
Discover the astonishing ancient citadel of Machu Picchu via Inca Rail Train
Admire the might of the Inca empire in the Sacred Valley(Two nights)
In Amazon canopy walkway, walk through the treetops along suspension bridges and enjoy unimaginable landscapes and vistas from below.
Experience the untouched, evergreen splendor of the Amazon rainforest. Stroll along jungle trails on the lookout for monkeys, parrots, and medicinal plants.
Staying in a cozy nature lodge, you'll be immersed in the ambiance of the jungle, waking up to the twitter and buzz of exotic birds (Two nights).
Cruise down the Amazon in a canoe and stalk across lakes in search of rare animals
Take a guided stroll through Cusco, where Inca temples and Spanish cathedrals alike line the cobblestone streets
City Tour of Lima with its 2,000 years of history
Prices are per person based on twin share accommodation
Add on airfare from other cities: Ottawa, Montreal, Quebec city from $100, Vancouver, Calgary, Edmonton, Victoria $300, Saskatoon, Regina, Winnipeg, Halifax, St.John from $400
2020:
March 6, 20 $3599 April 3, 17 May 8, June 5, 19 $3699
July 24, Aug 7, 21 $3799 Sep 11 $3699 Sept 25, Oct 9, 23, Nov 6 $3599
Nov 20 $3599 Dec 14 $3599
Single Supplement: $850
The Inca Trail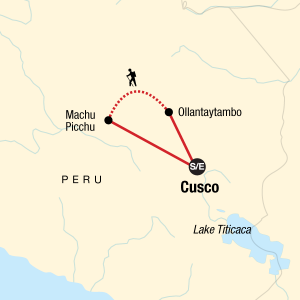 The cultural highlights of the Sacred Valley with the challenge of one of the world's best-known hikes. The four-day Inca Trail trek passes through a stunning combination of the region's ruins, mountainscapes, and cloud forests. Once you catch your first glimpse of Machu Picchu in the early morning light, you'll know it was all worthwhile. Best of all, since we run our own treks, we can ensure the fair treatment of our porters and the quality of food and equipment, so you can relax and enjoy the beauty of the region.
Explore ruins in the Sacred Valley
Learn about traditional ways of life and visit local markets
Conquer the Inca Trail to Machu Picchu
5 days/4 nights
2020:
Daily: March 6 to May 31 $1099
Daily: June, July August $1149
Daily: Sept, Oct Dec $1099
Daily: Nov 2020, Jan 2021 $1069