Peru
Peru is a country in South America that's home to a section of Amazon rainforest and Machu Picchu, an ancient Incan city high in the Andes mountains. The region around Machu Picchu, including the Sacred Valley, Inca Trail and colonial city of Cusco, is rich in archaeological sites. On Peru's arid Pacific coast is Lima, the capital, with a preserved colonial center and important collections of pre-Columbian art. There are over 3,000 different varieties of Potato grown in Peru. Spanish is not the only language spoken in Peru. Machu Picchu is of the New Seven Wonders of the World. The Largest Flying Bird on Earth can be found in Peru, The Giant Andean Condor.
Peru: Lima, the Inca Trail& the Amazon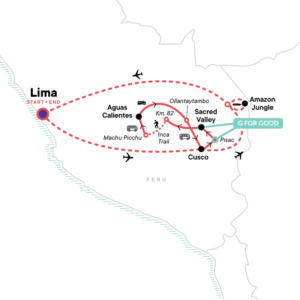 16 days Lima to Lima
Premium tour
Experience the best of Peru on this 16-day comprehensive adventure that captures the country's jaw-dropping landscapes, cultures and delicious food. Starting and ending in Lima, you'll spend a couple of days exploring the Sacred Valley before tackling the four-day Inca Trail trek, complete with a few extra comforts to make the landings at night a bit softer. Sleep on cots with air mattresses and blankets to wake better rested, and enjoy slightly later starts and different campsites than the usual, giving you more time to spend soaking in the incredible mountain views before arriving to Machu Picchu through the Sun Gate. Next, explore the Amazon Jungle by boat and on foot in search of wildlife like monkeys and tropical birds before returning to Lima and savouring one last delicious meal next to an ancient adobe pyramid.
Service Level: Upgraded
Physical Rating: 4 – Demanding
Some high-altitude hikes or more strenuous activities, but accessible to most healthy travellers.
Trip Type: Small Group
Small group experience; Max 16, avg 12
Age requirement: 18+
What's Included
Your G for Good Moment: Cuyo Chico Visit & Empanada Making Demonstration, Valle Sagrado
Your G for Good Moment: Parwa Community Restaurant the Sacred Valley, Lamay
Your G for Good Moment: Handmade Biodegradable Soap Products
Your Welcome Moment: Welcome Meeting – Meet Your CEO and Group
Your OMG Day: Hike to Perilnilloq Waterfall or Via Ferrata, Valle Sagrado
Your Foodie Moment: Traditional Pachamanca Dinner, Yanahuara
Your Discover Moment: Cusco
Your OMG Day: Hike to Templo de la Luna or Historical & Culinary Tour of Cusco, Cusco
Your Foodie Moment: Dinner at Huaca Pucllana, Lima
Complimentary arrival transfer
Welcome dinner
Explore Miraflores and Barranco by bicycle and on foot
CEO-led orientation walk of Cusco's historical centre
Explore the ruins of Pisaq in the Sacred Valley with a local guide
4-days hiking the Inca Trail with an expert local guide, cooks and porters
Upgraded camping experience with included cots, air mattresses, blankets, portable toilets and warm showers
Included sleeping bags and trekking poles along the hike
Guided tour of Machu Picchu
Lunch at Machu Picchu Sanctuary Lodge
2 days of excursions to spot wildlife in the Amazon jungle by boat and on foot with a naturalist guide
Rubber boot use
Farewell dinner
Internal flights
All tips included for activities and meals, except for CEO and porterage
All transport between destinations and to/from included activities
Accommodations
Hotels (10nts), Comfortable Camping with cots, mattresses, blankets, portable toilets, and warm showers (3nts), Amazon Jungle Lodge (2 nts).
Meals
15 breakfasts, 13 lunches, 13 dinners
2024:
Aug 1, 8, 15, 22, 29 $9619
Sept 5, 12, 29, 26 $9619
Oct 3 $9619 Oct 27, 24 $9099
2025:
April 3 $9099 April 17, 24 $9359
May 1, 8, 15, 22, 29 $9359
June 5, 12, 9, 26 $9619
July 3, 10, 17, 24, 31 $9619
Aug 7, 14, 21, 28 $9619
Sept 4, 11, 18, 25 $9619
Oct 2, 9, 16, 23, 30 $9359
Absolute Peru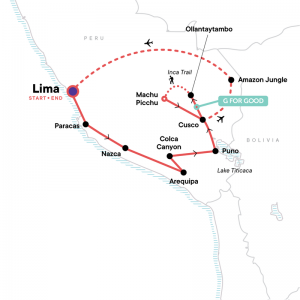 21 days Lima to Lima
Scan the canopy for wildlife from the comfort of our intimate and exclusive G Lodge Amazon, contemplate mountain vistas or take an optional flight over the Nazca Lines — this epic journey explores the geography, culture, and history of Peru, offering you the perfect blend of guided excursions and free time. Hike the Inca Trail, which rewards those willing to break a sweat with stunning views of ruins, mountainscapes, and cloud forest. And because we run our own treks, we can ensure the fair treatment of our porters and the quality of food, service, and equipment.
2023:
Jan 4, 5, 18, 19 Feb 11 $3249
March 11, 18, 25, April  5, 12, 15, 19, 26 $3870
The Lares Trek with One-Day Inca Trail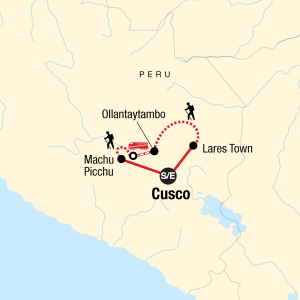 8 days, Cusco to Cusco
Embark on an incredible eight-day exploration through Peru's Lares trek with a taste of the iconic Inca Trail. Take a guided tour through the Sacred Valley, stopping at a women's weaving co-op before beginning your hike. The Lares Trek might not be as touristy but it's no less breathtaking with scenic views of lagoons, the snow-capped Chicon Mountain, Andean flora, and opportunities to meet local Quechua people along the way. A guided tour through Machu Picchu at sunrise, the best time to see the Lost City of the Incas, is a suitably stunning way to conclude your adventure.
2023:
Aug 5 $1829
Sept 2, 30, Oct 14, 28 $1769
Nov 25 $1699
Dec 23 $1769
2024:
Jan 6, March 16, April 13, May 11, 25, June 8 $1699
July 6, Aug 3, 31, Sept 28, Oct 12, 26 $1699
Nov 23, Dec 21 $1699
The Inca Trail
7 days Cusco to Cusco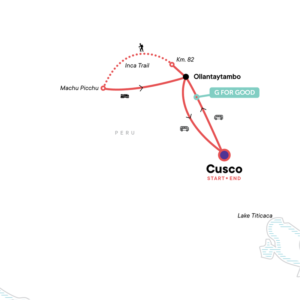 Combining the cultural highlights of the Sacred Valley with the challenge of one of the world's best-known hikes. The four-day Inca Trail trek passes through a stunning combination of the region's ruins, mountainscapes, and cloud forests. Once you catch your first glimpse of Machu Picchu in the early morning light, you'll know it was all worthwhile. Best of all, since we run our own treks, we can ensure the fair treatment of our porters and the quality of food and equipment, so you can relax and enjoy the beauty of the region.
2023:
Dec 14, 17, 19, 21, 2, 26, 28, 31 1759
2024:
January: daily $1699
Feb 4, 11, 18, 25, 29 $1699
March: Daily $1759
April: Daily $1759
May: Daily except Sundays $1925
June: Daily except Sundays $1925
Book Nov 30, 2023
PERU ESCAPE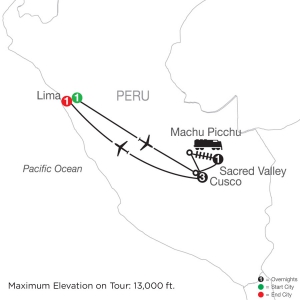 7 Day Tour from Lima to Lima
Discover the wonders of Peru on this week-long vacation featuring the must-see highlights of the Land of the Incas at a price that tells you now is the time! Your Lima sightseeing features the San Francisco Monastery along with the Plaza de Armas to see the Government Palace and the Cathedral. Fly to Cusco where you will be whisked into the Sacred Valley of the Incas where you will learn about the importance of the camelids in this area and see the ancient weaving techniques still in use today at Awanakancha. After time to explore the famous Indian market of Pisac, settle into your lush mountain-side hotel. Take the train through Urubamba Valley and spend a day at the impressive Machu Picchu ruins. Your tour of this ancient site reveals the many mysteries shrouded high in the clouds and rainforest. On your return to Cusco, your sightseeing tour includes visits to Sacsayhuaman, built in the early 12th century, and the Kenko Temple. These are just some of the many highlights you'll see on this wonderful Peru vacation designed for savvy, value-minded travellers.
2023:
Aug 6, Spet 10, Oct 8, Nov 5 Dec 3 $1997
2024:
Jan 18, Feb 11, March 10, 24 $2298
April 7, 21, May 19 $2298
June 2 $2382 June 30 $2298
July 14, 21, Aug 11, Sept 8, 22, 29, Oct 13 $2298
Oct 27, Nov 17, Dec 1 $2328
2025:
Jan 26, Feb 9, 23, March 9, 23 $2517
April 6, 13, 20, May 4, 18 $2517
June 1, 29, July 13, 20 Aug 10 $2517
Spet 7, 21, 28, Oct 12, 26 $2517
Nov 16, 30 $2517
Prices are per person in single, double or triple room occupancy.
Inca Discovery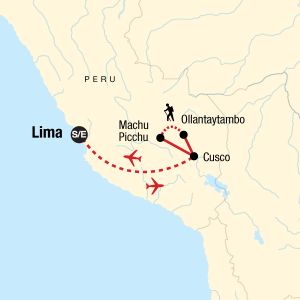 8 days
Lima to Cusco
Perfect for those looking to experience the region's archaeological and cultural treasures in a short amount of time, this adventure includes a four-day trek along the Inca Trail. This is one of the world's best-known hikes and will reward those willing to break a sweat with a stunning combination of mountainscapes, cloud forests, and jungles. We run our own treks, which ensures the fair treatment of our porters and quality equipment.
2023:
Dec 12, 13, 15, 18,20, 25, 26, 27, 30 $1679
2024:
January: Daily except Thursdays $1630
Feb 3, 19, 17, 24, 28, 29 $1630
March: Daily $1679
April: Daily $1679
May: daily except Sundays $2195
June: Daily $2195
Book by Nov 30, 2023