River cruising is a wonderful way to explore the countryside. Sailing gently along as medieval castles float by your balcony.
A home away from home – a different port everyday for you to delve into the culture.  With great dining, exceptional service and immersive itineraries, river cruising is becoming very popular!
http://www.vikingrivercruisescanada.com/myagent/sundialtravel/
An AmaWaterways river cruise is about more than the destination – it's the journey. We invite you to take one of our European river cruises, Asia river cruises, or Africa river cruises and see the world in luxury and comfort.
River cruising through Europe with AmaWaterways is an excellent way to explore a destination. Discover local culture and sights on included tours, and then hop back on your luxurious river cruise ship and sail to the next stunning city or charming town. Included in the fares of our river cruises are shore excursions in every port of call; all dining on board (including The Chef's Table specialty restaurant); fine wine, beer and soft drinks with lunch and dinner; internet access and Wi-Fi; and bicycles that you can use to explore on your own or join our guided bike tours.
In Europe, you can take one of our Danube river cruises, or one of our Rhine river cruises. We also offer river cruises in France and Portugal. We hope that you enjoy exploring our many itineraries in Europe, Asia and Africa, and look forward to welcoming you aboard soon.
Book here:   https://www.amawaterways.ca/agent/sundialtravel/
River cruising including the Oberammergau, Passion Play
Oberammergau with Salzburg
12 DAYS | Oberammergau to Budapest
Cruise from $6,999* CAD
On May-Sep 2022 Departures
Plus, International Airfare from $1,199* CAD
Experience the famed Oberammergau Passion Play and discover scenic Salzburg before sailing the Danube to explore Linz, Vienna and Bratislava
Oberammergau, Innsbruck & the Rhine
12 DAYS | Amsterdam to Oberammergau
Cruise from $6,949* CAD
On May-Sep 2022 Departures
Plus, International Airfare from $1,199* CAD
Delight in Strasbourg's old-world charm, marvel at Innsbruck's Alpine beauty and see The Passion Play in Oberammergau on a 12-day journey
Oberammergau, The Passion Play
10 DAYS | Munich to Budapest
Cruise from $5,899* CAD
On May-Sep 2022 Departures
Plus, International Airfare from $1,199* CAD
Witness a rare performance of The Passion Play in Oberammergau and uncover the treasures of Vienna and Budapest as you sail the idyllic Danube
Oberammergau, the Alps & the Rhine
12 DAYS | Munich to Amsterdam
Cruise from $6,699* CAD
On May-Oct 2022 Departures
Plus, International Airfare from $999* CAD
Behold The Passion Play in Oberammergau and the Tyrolean Alps in Innsbruck before discovering the enchanting cities that frame the Rhine
Ama Waterways is thrilled to announce the industry's most remarkable and longest river cruise ever, brought to you by their very own Co-Founder, Rudi Schreiner: AmaWaterways' Seven River Journey Through Europe. Never before offered in the history of river cruising, this once-in-a-lifetime 46-night journey launching in Summer of 2023 sails through fourteen fascinating European countries aboard award-winning ships and offers exceptional new experiences guaranteed to surprise and delight you.
Seven River Journey Exclusives
One dedicated Cruise Manager who will take care of you throughout your entire journey
Complimentary gratuities both on board and ashore
Seamless transfers between ships
Small group excursions with a variety of choices each day, including unique new offerings
Exclusive experiences just for Seven River Journey guests
All fine dining on board in multiple dining venues
Complimentary laundry and luggage services throughout your river journey
Commemorative gifts
Additional surprises and delights
Rates starting at $36,120 Cdn per person.
Seven River Journey!
Fourteen countries, 46 days
June 1 to July 17, 2023
Portugal River Cruise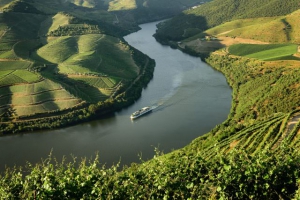 10-night all-inclusive River Cruise package on the Douro with flights! Explore lively Lisbon, charming Porto, and discover breathtaking landscapes while navigating the fascinating Douro.
PACKAGE INCLUDES:
International flights
Welcome & transfers
2 nights pre cruise in Lisbon
1 night post cruise in Porto
5 nights on the Douro
Inclusions:
-International flights between Canada,Lisbon and Porto
-Greetings and transfers between the airport, the hotel, and the port in Lisbon and Porto
-Transfer between Lisbon and Porto
-2 nights pre-cruise in Lisbon at the Miraparque 3* hotel with breakfast included
-1 night post-cruise in Porto at the Tryp Porto Centro 3* hotel with breakfast included
-5 nights on the Douro on the MS Gil Eanes or MS Amalia Rodriguez river cruise ship in a standard cabin
-all inclusive: All meals and drinks on board (including alcohol)
-Welcome cocktail and gala dinner on board
-Wifi internet on board
-All taxes & fees
2022:
April 18, Aug 27
Calgary or Edmonton $3598
Vancouver $3498
Halifax or Ottawa $3398
Montreal or Toronto $3298
April 29, May 23, June 23 or Oct 3
Calgary or Edmonton $3698
Vancouver $3598
Halifax or Ottawa $3498
Toronto or Montreal $3398
Mekong River Cruise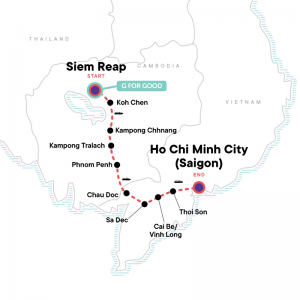 8 days Siem Reap to Ho Chi Minh City
Experience the beauty of both Cambodia and Vietnam during this eight-day river cruising journey. Take in Wat Phnom, the Grand Palace, the S21 Museum, and the Tra Su Bird Sanctuary and prepare to see things you'll never forget (but bring your camera anyway). Get a true taste of river cruising while visiting the Cai Be floating market and the fishing port of Kampong Chhnang, where you'll learn about fish farming, pottery, and sugar palm production. Opt for bikes, tuk tuks, or local boats to get around and see rice paddies, monasteries, and local businesses.
2021:
July 14, 28, Aug 25, Sept 22 $2167
Oct 8 $2379 Nov 19, Dec 17 $2575
2022:
Jan 14 $2396 Jan 28, Feb 11, March 11 $2575
March 25, April 8 $2379
Book with deposit by Feb 28, 2021
BURGUNDY RIVER CRUISE ADVENTURE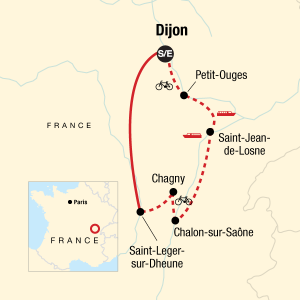 8 days, Dijon to Dijon
Blessed with some of the most gorgeous countryside in Europe, if not the world (not to mention perhaps the best wine around), Burgundy is a place everyone should explore at least once. And the best way to do it is from the deck of an ambling river barge. Visit small villages and first-rate wineries, bike through forests and vineyards on a provided bicycle, and soak up the glorious sunshine, all with the help of a charming little hotel that goes where you go. You won't get a better glimpse of Burgundy's pastoral pleasures than this.
2021:
June 4, 18, Oct 15 $3699
July 9, Aug 27 $3449
Sept 3, 10, 24 $3949  Oct 15 $3669
AMAZON RIVERBOAT ADVENTURE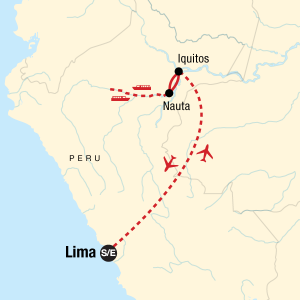 9 days, Lima to Lima
Hop aboard a riverboat and experience the Amazon in style. Led by an Amazon Reserve naturalist guide, your cruise will include daily excursions by motorized skiff designed to reveal the exotic wildlife that calls the rainforest home — with any luck you'll spot sloths, toucans, or pink dolphins! And, with plenty of time for exploration in Pacaya–Samiria National Reserve, you'll have the chance to experience the jungle up close. The cuisine on-board is regional and provides a unique and delicious window into local culture. Gain a rare glimpse of how life "on the river" is lived and experience the magic of the Amazon on this once-in-a-lifetime riverboat adventure.
2021:
July 17, Aug 7 $3049