Australia
Sydney is Australia's largest and most populous city. Sydney is famous for its long, dazzling beaches and metropolitan charm. Though the city features many examples of classic Victorian architecture, its skyline is shaped by modern towers and marvels like the Sydney Harbour Bridge and the Sydney Opera House. Australia's warm climate is perfect for enjoying the scenic shoreline or embarking on adventures across the Australian outback, where visitors will find an array of exotic animals unique to the continent like koalas, kangaroos, and platypus. Sydney offers the best of the beach life in the heart of a modern metropolis, and it's always open to visitors.
NEW ZEALAND JOURNEY
12 days – Auckland to Queenstown
Spend 12 days exploring the North and South Islands of this small country packed with wonders. Travelling by train, gondola, boat, and plane, sample local wine, walk through an ancient rainforest, and learn about local legends and cuisine from the Maori. Take a deep breath to fill your lungs with the impossibly clean air here — and fill your soul with the legendary Kiwi spirit.
On Sale: 2020: Feb 26 $3922 Mar 22 $4445
Book by Dec 31, 2019
The Complete South Pacific
Meet a koala, enjoy a bush dinner in the Outback, cruise the pristine waters of Milford Sound – do it all on The Complete South Pacific, an unforgettable 27-day journey through Australia and New Zealand. Toast Uluru (Ayers Rock) at sunset with champagne. Spend two nights on the Australian island state of Tasmania and visit the Tasmanian Devil Conservation Centre. Visit the Phillip Island nature preserve to learn about the world's largest colony of Little Penguins. Board the Skyrail Rainforest Cableway for an unforgettable ride over the rainforest canopy. Discover the beautiful city of Darwin. Take in a dinner and unforgettable performance at the famous Sydney Opera House. Discover the colourful world of the Great Barrier Reef. Marvel at New Zealand's majestic fjord, Milford Sound. Spend two nights in Rotorua, a geothermal wonderland. Throughout your adventure explore Aboriginal and Maori traditions.
37 meals
Book by Dec 25, 2019
2020:
Jan 25 $9999 $9399
Feb 22, Mar 14, 21 $9999 $9499
Sept 13 $8799 $8299
Oct 4, 11 $9449 $8949
2021:
Jan 10, Feb 7, Mar 14 $9499 $9099
2020: Jan 11, Feb 1, 15, April 18 $9999 Oct 18, Nov 1 $9449 Dec 31 $9779
2021: Jan 31, Feb 21, 28 $9449 April 18 $8799
South Pacific Wonders Including New Zealand's North Island
16 days/15 nights
26 meals
Explore two great countries of the Southern Hemisphere – Australia and New Zealand. From the tropical splendour of the Great Barrier Reef on Australia's northeast coast to the ethereal beauty of glacial fjords on New Zealand's South Island and Maori cultural and geothermal wonders on New Zealand's North Island, this journey to the lands "Down Under" brings you the best of both countries at an enjoyable pace. Cruise Sydney Harbour and Milford Sound. Meet Australia's wildlife up close. Discover the wonders of Aboriginal culture. Visit Auckland and gain insight into Polynesian culture. Experience an authentic Hangi dinner celebration. Visit the Agrodome and observe a sheep shearing demonstration. Indulge in regional flavours during lunch at a family-run merino sheep farm and experience Queenstown, the adventure capital of the world.
2020: Nov 2 $6099 $5599
2021: Feb 1 $6099 $5899
Book by Nov 30, 2019
2020: April 7, 28 $6249 Oct 13 $6099
2021: Mar 2, April 13 $6099
Australia and New Zealand Uncovered
Uncover the core of Maori culture in New Zealand. Dive into the unparalleled Outback of Australia. This is Oceania, a paradise in the South Pacific. Admire the striking essence of Uluru (Ayers Rock) as you dine under the stars. Tour the Sydney Opera House to get a glimpse of the action behind the scenes. Choose how you spend the day discovering the legendary Great Barrier Reef – by snorkelling, hiking, relaxing or learning. Join a local Kiwi family for a home cooked dinner in Queenstown. Cruise through the dramatic Milford Sound and the organic splendour of Abel Tasman National Park. From sparkling coastlines to age-old traditions, take in the natural beauty and engaging society of these captivating countries.
22 days/21 nights – 31 Meals
2020: Oct 26 $8099 $7699
2021: Feb 22 $8099 $7799
Book by Nov 30, 2019
2020: Sep 14, $7549 Oct 4, Nov 2 $8099
2021: Jan 18, Mar 1, $8099 April 12 $7549
Australia & New Zealand Discovery
23 days, Cairns to Queenstown
Discover the lands down under on this 23-day tour through Australia and New Zealand's greatest hits. Venture along Australia's east coast from Cairns to Sydney, stopping to snorkel at the Great Barrier Reef and explore the caves of the Blue Mountains. Afterwards, jet over to New Zealand where you'll get a glimpse into Maori culture and satiate your adrenaline-seeking spirit in the birthplace of bungee jumping. Your bucket list will be significantly shorter once this tour is complete.
2020: Feb 13, Nov 19, Dec 3, 17, 31 $8049
2020: July 9, Sept 17, Oct 8, 29 $7649
2021: Jan 14 $8049
BEST OF AUSTRALIA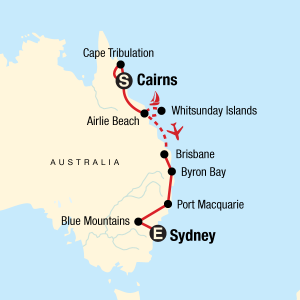 14 days, Cairns to Sydney
In case you hadn't noticed, Australia is an awfully big place. So big, in fact, that you'd need to come back a few times to see it all. Don't have that kind of time? Hop aboard this 14-day trip down Australia's east coast and make the most of the time you do have. Offering a solid mix of must-do experiences and uncommon adventures, you'll learn to surf at Byron Bay, sail the Whitsundays, and trek through Mossman Gorge in the Daintree Rainforest. The best part: there's still plenty more to come back for.
2019: Dec 12 $4539
2020:
Jan 23 $3487
Feb 13, Mar 26, April 16 $4549
Feb 27 $3867
May 14, Jun 11 $4359
July 9, Aug 6, 27, Sept 3, 17, Oct 8, 15, 29 $4149
Nov 12, 19, 26 $4359
BEST OF THE RED CENTRE & EASTERN AUSTRALIA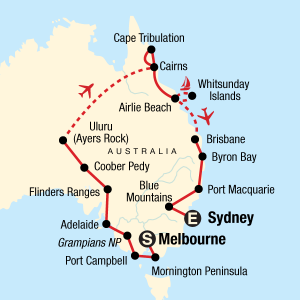 25 days, Melbourne to Sydney
Australia is over 7 million sq km (4.35 sq mi) of sand, reef, rock, koala, wine, sailing, ocean, city, culture, Dreamtime, and so much more than we could possibly list here. It would take several lifetimes to explore it all. This sprawling 25-day adventure comes pretty close, though. Kick things off in cosmopolitan Melbourne by discovering the city's hidden laneways. Then head up the Great Ocean Road to a couple of national parks before journeying deep into the fabled Outback for a rendezvous with the iconic Uluru. Next, meet the Great Barrier Reef from Cape Tribulation, cruise the glorious Whitsundays, visit a G Adventures-supported cultural centre, learn to surf, and explore Sydney. Exhausted yet? Just wait'll you're actually there!
2020: Feb 16 on sale! $8040 Book by Nov 30, 2019
2020: Feb 2, Sept 6, 27, Oct 4, 18 $9459
March 15, April 5, June 18 $9149
Nov 88, 22, Dec 6, 20 $9759
2021: Jan 3 $9759
Australia  & New Zealand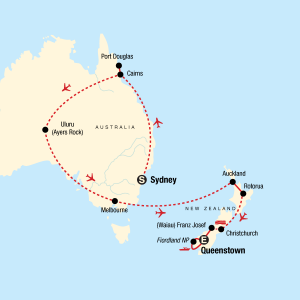 23 day tour
Why choose between Australia and New Zealand? Experience both on an extraordinary 23-day adventure. Discover iconic Sydney, fashionable Melbourne, and welcoming Auckland; stand in the presence of sacred Uluru; explore ancient rainforests; and get your fill of city life, mountainscapes, glaciers, cultural moments, deserts, hot springs, and photo ops.
WHAT'S INCLUDED
The Rocks Aboriginal Dreaming and Welcome Tour, Sydney
James Cook University Research Aquarium, Cairns
Melbourne Foodie Walk, Melbourne
Waiheke Island Wineries, Waiheke Island
Meet a Maori Elder, Rotorua
Resourceful Ōtautahi Walking Tour with Local Expert, Christchurch
Cairns. Sydney Harbour Aboriginal Walk. Sydney Harbour dinner cruise. Aboriginal walk through the Daintree Rainforest. Sunrise interpretive walk at Uluru. Melbourne orientation walk. Visit glowworm caves. Scenic TranzAlpine train. Queenstown Gondola ride. Wilderness day cruise (winter) or overnight cruise (summer) in Fiordland National Park. Internal flights. All transport between destinations and to/from included activities.
2020:
Jan 8, 15, 22, 29, March 4, 18, 25, $11,439
Feb 5, 12, 19, 26, 2020 $11,699